Fresh Fish! Salt And Pepper Semi-Cured Hamachi Sashimi Recipe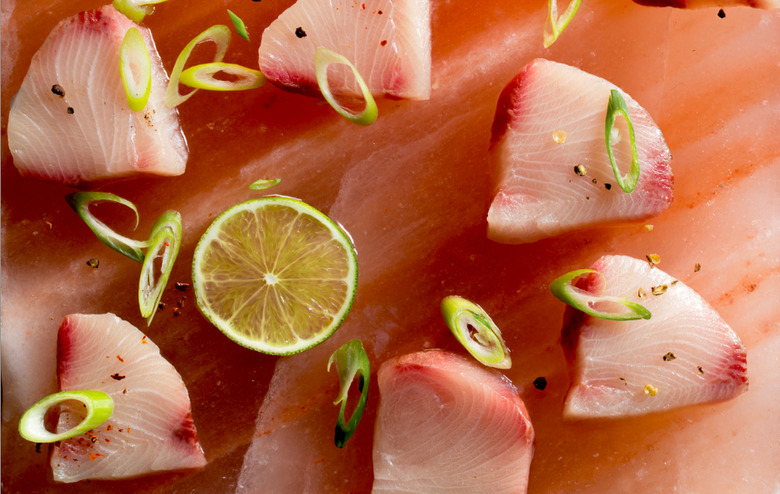 One of our favorite books of the summer (along with these other 7) is Mark Bitterman's Salt Block Cooking. We've never been so excited to see a big pink slab of salt! First up, a barely-cured sashimi served on a natural salt brick.
A cut of fish glistening from the sea asks that we honor it. Simple slices of pristine hamachi can't bear the insult of ornamentation, but they are exalted by salt. Resting fresh fish flesh on a chilled block of salt returns it momentarily to its birthplace, impregnating it with salinity, firming its muscularity.
You will need very high-quality fish for this dish. If you have access to an Asian market, the fishmonger there can usually get you sushi grade hamachi. Plan ahead, because it might have to be special-ordered. Yes, I know it is pricey, but ecstasy isn't cheap.
Fresh Fish! Salt And Pepper Semi-Cured Hamachi Sashimi Recipe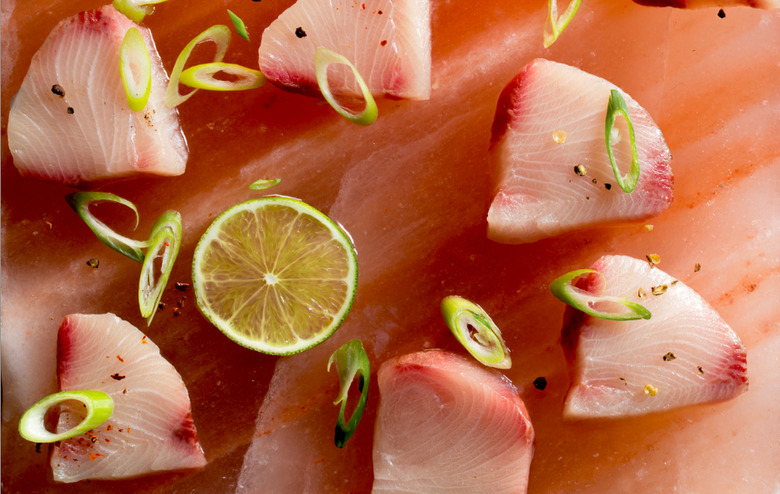 Ingredients
1 9-inch square or round salt block
1 pound sushi-grade yellowtail flounder (hamachi)
2 Tellicherry peppercorns
4 dried green peppercorns
4 Szechuan peppercorns
1/8 teaspoon Aleppo Pepper
2 scallions roots and dark green ends
4 thin slices
Directions
Chill the salt block in the refrigerator for at least 2 hours.
Cut the yellowtail into 1/2-inch-thick slices. Place the fish slices on the chilled salt block and refrigerate for 10 minutes. Then flip the pieces of fish so the other side comes in contact with the salt and refrigerate for another 5 minutes.
While the fish is curing, smash the Tellicherry, green, and Szechuan peppercorns with the flat side of a large knife, a meat pounder, or the bottom of a heavy skillet. Mix the peppercorns together with the Aleppo pepper.
To serve, scatter the pepper and scallions over the fish, and serve on the salt block with the lime slices.