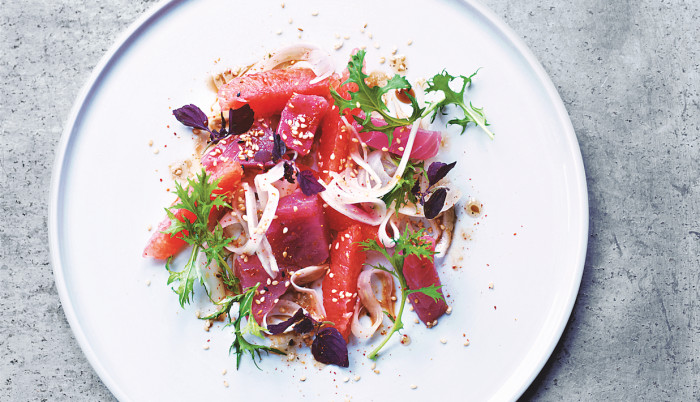 Recipe developer and food stylist Annie Rigg is a master of the most beautiful foods on Earth, so naturally her next cookbook is packed with colorful, radiant fruits. Incorporate these sweet elements into your favorite preparations and watch the Instagrams take themselves. 

Not only does this salad look very pretty, but it tastes rather marvelous too. If you prefer, you could use cooked shrimp in place of the tuna and arugula instead of the mizuna. However, if you have a garden or even a small terrace, it's worth growing a few pots of mizuna, as these peppery, sharp salad leaves are about the easiest thing to grow and really add an extra dimension to the salad bowl.

Reprinted with permission from Summer Berries & Autumn Fruits
Ingredients
1

head of

fennel

1/4

cup

rice vinegar

2

tablespoons

granulated sugar

A

pinch of

salt

2

pink grapefruits

9

ounces

sushi-grade fresh tuna

A

handful of

mizuna red shiso or other micro herbs or sprouts

1

tablespoon

sesame seeds, lightly toasted

Nanami togarshi (Japanese chile seasoning)
For the dressing
2

tablespoons

soy sauce

2

tablespoons

grapefruit, orange or mandarin juice

4

teaspoons

yuzu or lime juice

1/4

cup

sesame oil

freshly ground black pepper
Directions
For the crudo salad
Start by lightly pickling the fennel: Trim the fennel, cut into quarters, and very finely slice (this is best done using a mandoline if you have one), then transfer to a glass or ceramic bowl. Combine the rice vinegar and sugar in a small saucepan, add the salt, and bring to a boil, swirling the pan to dissolve the sugar. Pour the hot pickling liquid over the fennel and set aside for 30 minutes to soften while you prepare the remaining salad ingredients.

Using a sharp knife, cut a thin slice off the top and bottom of each grapefruit. Sit the grapefruit upright on the cutting board and cut the skin away from the fruit in strips, working from top to bottom, so that you end up with a neat barrel shape with no pith remaining. Neatly cut the grapefruit segments away from the membrane and set aside. Squeeze the juice from the membrane into a bowl — you will need 2 tablespoons for the dressing.

To make the dressing, pour all the ingredients into a small bowl with the grapefruit juice and whisk briefly to combine.

Slice the tuna into neat bite-sized pieces and arrange on plates. Drain the fennel from the pickling liquid and arrange around the tuna with the grapefruit segments. Scatter the mizuna and shiso or other micro herbs or sprouts around, sprinkle with the toasted sesame seeds, drizzle with the dressing, and season with nanami togarshi. Serve immediately.