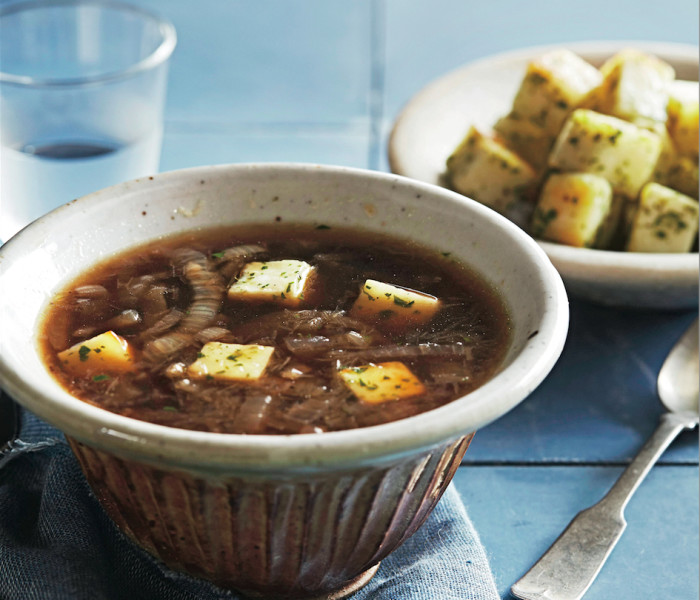 Who's everyone's favorite Next Food Network Star? Aarti, of course! And best of all: she's actually awesome. Make her delicious everyday recipes from her new cookbook, Aarti Paarti, streaked with Indian and Middle Eastern influence, and enjoy her stories while you're at it.
This is a great soup to have in your back pocket; not only is it satisfying and comforting, it's budget friendly, something I really appreciate when the coffers are running a little thin. I also appreciate the truly transformative nature of this soup, and I can't help but see it as a metaphor for what I feel God has done for me over the past few years. He took an unassuming root vegetable, hairy and a little rough around the edges, and started peeling away the layers of self-doubt and fear that had developed over the years (causing me to shed many a tear!). He applied a little heat, bade me to be patient through the hot mess of onions sticking to the bottom of the pan, and in the end transformed that unpolished allium into something I can be proud of. Hallelujah!
Ingredients
Soup
2

tablespoons

ghee or butter

1/2

teaspoon

cumin seeds

1

cassia or cinnamon stick

4

green cardamom pods, crushed

1

small

star anise pod

3

pounds

red onions, peeled, cores removed and sliced thinly into little rainbows, about 8 each, 12 cups sliced

kosher salt

1/4

cup

rye whiskey

6

cups

chicken stock

2

cups

beef stock

1

large

dried bay leaf

couple of sprigs of

fresh parsley

2

teaspoons

sherry or balsamic vinegar
Croutons
7

ounces

paneer, cut into small 1-inch cubes (can also sub with halloumi)

extra virgin olive oil

kosher salt

small handful

fresh parsley, finely chopped

big squeeze of

fresh lemon juice

freshly ground black pepper
Directions
For the soup:
Grab your largest, widest pot, preferably a heavy-bottomed Dutch oven, and place it over medium heat.
Add ghee or butter, and once it has melted, add the cumin seeds, cinnamon stick, cardamom and star anise pod.
Sauté a little less than a minute, until fragrant and cumin seeds darken a little (but don't blacken; if they do, start again!).
Now add onions—do this in a few layers, sprinkling with a good coupla pinches of salt in between.
Turn heat up to medium high. Stir, and cook 25 to 30 minutes, stirring every now and then, but not too often.
A deep dark brown crust will form on the bottom of the pot; don't worry. This is flavor! But if it is starting to blacken, then add a little water to loosen it from the bottom and turn the heat down to medium. Don't turn the heat off. You want these onions to turn almost syrupy and chestnut brown in color.
Turn heat off.
Add whiskey, turn heat back up to medium high and scrape up that delicious crust with a wooden spoon.
Cook until most of the whiskey has evaporated, about 2 to 3 minutes.
Now add the stocks and continue to gently scrape up any remaining crust.
Drop the bay leaf and parsley sprigs into the pot, bring it to a boil, then turn down to a gentle simmer.
Cook, uncovered for 20 minutes. It will smell so good the neighbors might come knocking. Sorry about that.
For the croutons:
Toss the paneer in a bowl with a couple glugs of extra-virgin olive oil, a big pinch of salt and parsley.
Warm a nonstick pan over medium heat, and when warm, add the paneer.
Cook, tossing only every now and then until golden brown on one side.
Toss again, cook another minute or so (you don't want them to be golden brown all over, or else they'll be tough); hit with a couple of big squeezes of lemon juice and some salt and pepper.
Toss, and remove from heat.
The soup should be done by now. Add the vinegar, taste for seasoning.
The whole spices should have floated to the top (if they haven't, give the soup a gentle stir to find them); pull them out.
Serve the soup with the little paneer croutons on top, and give thanks for goodness coming from simple things!
Find more French onion recipes on Food Republic: