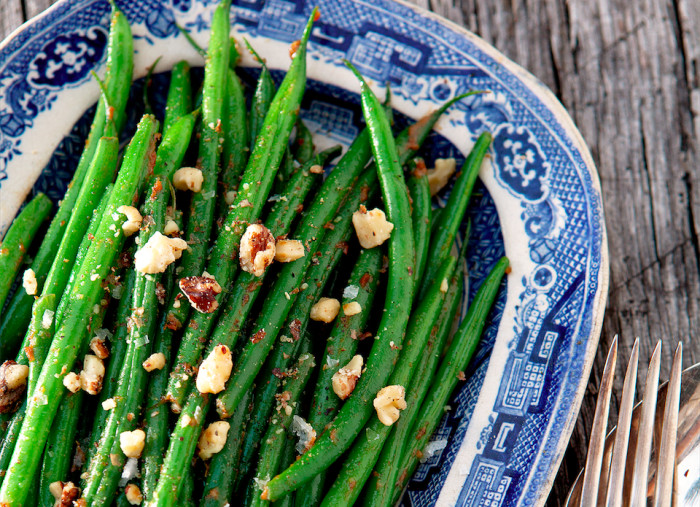 It's not just for frozen drinks anymore! That's right, your blender is one useful appliance. We've been reminded of this very obvious (but important) fact in author Rebecca Ffrench's new Ultimate Blender Cookbook. Suddenly sauces, baking and even burgers have taken on new life.
Don't reserve walnut miso butter strictly for beans. Try it slathered on carrots, tossed with broccoli or even mixed with a mélange of steamed veggies.
Reprinted with permission from The Ultimate Blender Cookbook
Ingredients
3/4

cup plus 2 tablespoons

walnuts, toasted

1

clove

garlic, peeled

2

tablespoons

toasted sesame oil

1

tablespoon

rice wine vinegar

1

tablespoon

water

2

teaspoons

raw honey

3

tablespoons

white miso paste

1

pound

French green beans
Directions
Place 3/4 cup toasted walnuts and the garlic clove in the blender pitcher.
Pulse several times on medium.
Using a spatula, scrape down the sides of the blender and pulse again.
Add the sesame oil, vinegar, water, raw honey and miso paste.
Process for 30 seconds or until blended thoroughly. Set aside.
Heat an inch or so of water in a skillet and bring it to a boil.
Add the string beans and cook for 3 to 4 minutes.
Quickly drain and place back in the pan.
Toss with the miso butter, then transfer the beans to a serving dish.
Coarsely chop the remaining 2 tablespoons walnuts and sprinkle on the beans.
Serve warm.
Find more green beans on Food Republic: