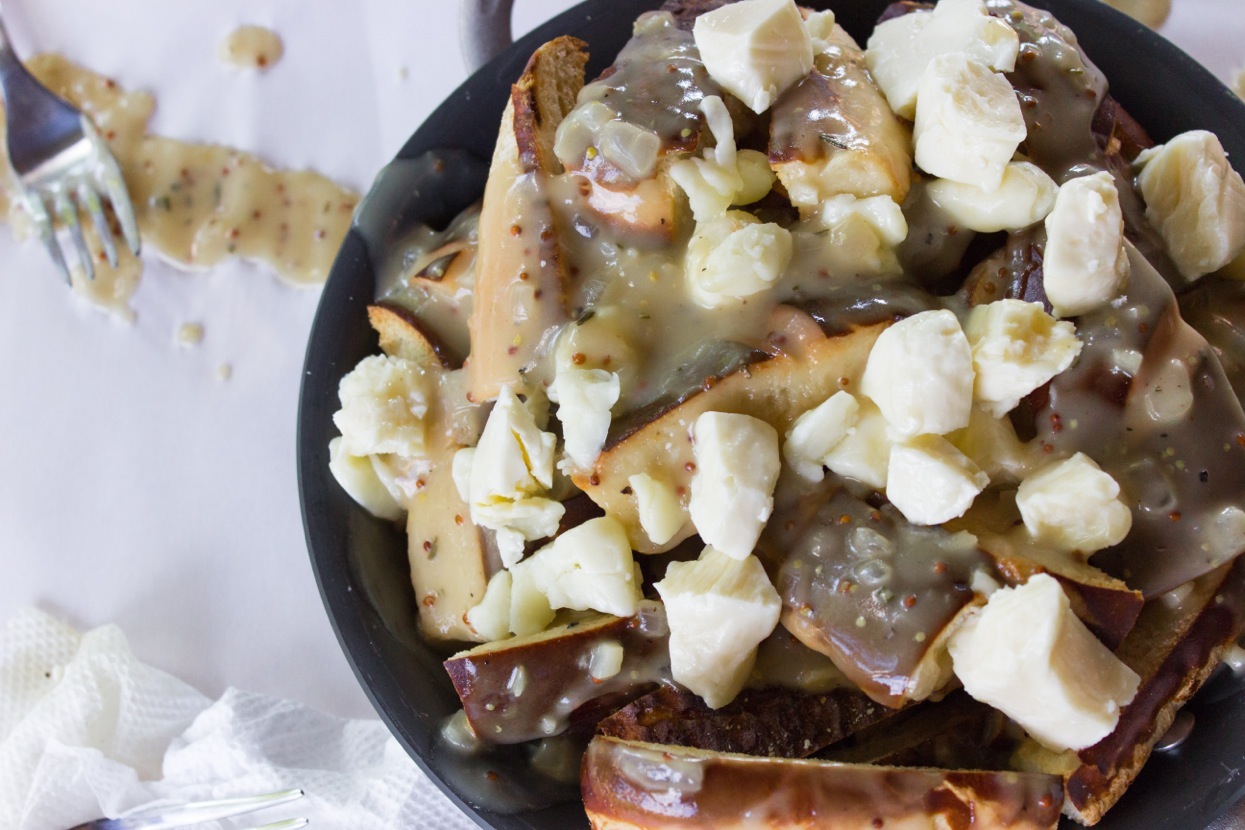 Canadians must know what they're doing, because anyone who thinks to combine French fries, cheese and gravy into one harmonious dish is genius in our book. Making fries at home can be laborious and messy to boot, and since we're obsessed with anything pretzel (especially for the start of football season) we've made our mark on the venerable poutine with this new spin we think you'll dig.
Ingredients
3

tablespoons

unsalted butter

3

tablespoons

all purpose flour

1

onion, minced

1

clove

garlic, minced

1

teaspoon

fresh rosemary, minced

1

cup

smoked beer or other beer of your choice

1

cup

chicken or vegetable stock

1

teaspoon

sugar

4

pretzel sausage buns, cut into thick "fries"

1

cup

fresh cheese curds (or substitute chunks of cheddar or queso fresco if you can't find curds)

kosher salt and black pepper, to taste
Directions
Preheat the oven to 400°F.
In a medium saucepan, melt the butter over medium heat until it starts to foam, then add the flour.
Stir with a wooden spoon to incorporate, lowering the heat to low, and cook for about a minute.
Add the onions, season with a pinch of salt and pepper and stir to coat with the flour and butter mixture.
Increase the heat to medium and cook until the onions are just starting to brown, 3-5 minutes.
Add the garlic and rosemary and cook for another minute, stirring to combine.
Slowly add the beer and stock and whisk constantly until all of the liquid has been added.
Bring to a gentle boil, add a pinch of salt and pepper and the sugar, then lower the heat to medium low.
Cook until the gravy has thickened and the flavor has developed, 20-25 minutes, and adjust seasoning to taste.
Meanwhile, lay out the pretzel "fries" on a large baking sheet and toast until they are completely crispy and not soft in the center.
Spread the pretzel pieces onto a large plate, top with copious amounts of gravy and sprinkle on the curds.
Enjoy while warm.
Find more poutine recipes on Food Republic: