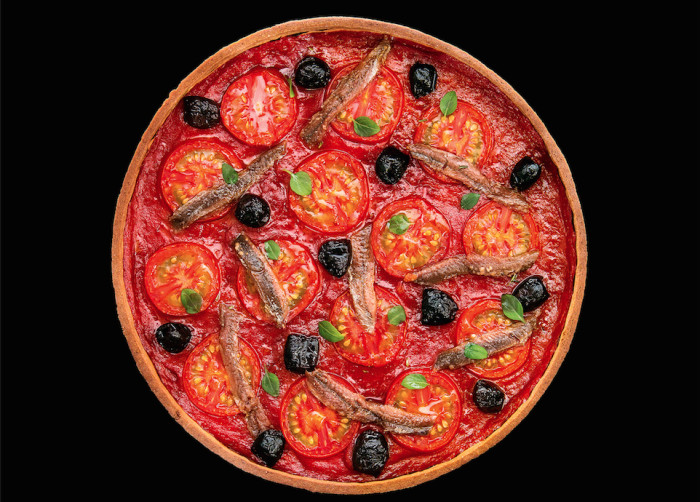 Nobody makes a sweet or savory tart like the French, which is why we're powering through this new book of recipes from Michelin-starred Paris chefs Frederic Anton and Christelle Brua. From seasonal fruit and rich chocolate to leafy greens, hearty fish and tender meat, there's a pastry shell for every filling you crave.
Ingredients
1/3

cup

flour, for rolling out the dough
Filling
1

onion

2

tablespoons

olive oil

5

vine tomatoes

1

clove

garlic, peeled

1

sprig

thyme

4

cocktail tomatoes, cut into 3-4 rounds each

14

black olives, pitted

9

anchovy fillets

A few

leaves of

dwarf basil
Savory pâte brisée
2

cups

all-purpose flour

1/2

cup

unsalted butter

1

teaspoon

fine salt

3 1/2

tablespoons

water

1

egg yolk
Directions
For the pâte brisée
Sift the flour onto the workspace. Add the softened butter, cut into pieces. Combine the flour and butter with your fingertips until you achieve a sandy consistency. Add the salt, the water and the egg yolk. Mix the ingredients until they are evenly combined. Bring the dough together into a ball. Wrap in plastic wrap.

Chill the dough for 2 hours until it becomes firm. The savory pie dough is ready to be used.
For the tart
Preheat the oven to 300°F. On a floured work surface, roll out the Savory Pâte Brisée with a rolling pin to 5 millimeters thick, between ¼- and 8-inch. Place the dough in a buttered tart pan. Crimp the edges. Dock the crust by lightly pricking it all over with a fork. Chill the prepared dough in the refrigerator for 1 hour. Prebake this tart base at 300°F for 8 minutes. Set aside to cool.

Make the tomato coulis. Thinly slice the onion. Heat the olive oil in a saucepan, and add the onion. Quarter the vine tomatoes and add them, along with the garlic and the thyme. Do not season with salt, as the anchovies will add enough salt to the recipe.

Simmer over low heat for 10 minutes. Purée the sauce in a blender or with an immersion blender, and pass it through a chinois.

Bring the oven temperature up to 350° F. Pour some of the tomato coulis into the cooled, prebaked crust. Add the cocktail tomatoes, the black olives and the anchovy fillets.

Bake at 350°F for 20 minutes.

Garnish the tart with a few leaves of dwarf basil. Serve immediately.