French Fare: Steak Au Poivre Recipe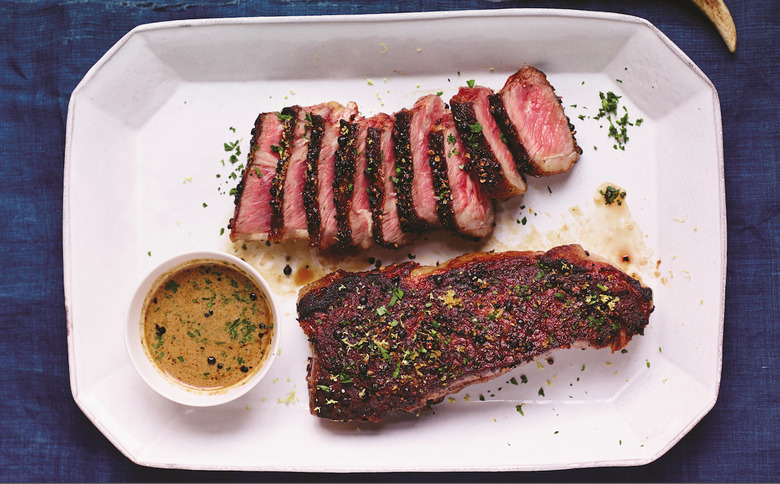 We may receive a commission on purchases made from links.
Dana Cowin is the longtime editor-in-chief of Food & Wine magazine, so you might think her kitchen skills are as strong as her editorial prowess. Take it from a self-professed dish-ruining home cook: sometimes you need a real chef to step in and show you the ropes. Cowin's new book, Mastering My Mistakes In The Kitchen, was inspired by (and with help from) some of the country's most beloved chefs, to bring your confidence up to your taste buds' level. 
I hadn't cooked for just my husband in fourteen years. I'd fed him, of course. Hosted dinner parties with him. Made his coffee and fried a few eggs in the morning. But I hadn't really made a romantic dinner for two since before our first child was born. With the kids at camp, I decided to make his favorite meal, steak au poivre: a New York strip steak crusted in crunchy crushed peppercorns with a flamed Cognac and mustard sauce. My biggest fear was that I would set my kitchen on fire. I held my breath as I struck a teeny wooden matchstick to light the Cognac. That went well! The flames eventually died down, and I proceeded with the rest of the recipe. Disaster was averted, or so I thought, until we tasted the steaks. The sauce had a bitter, astringent edge.
Alex Guarnaschelli, of the New York City restaurant Butter, identified my mistake: cooking in a cast-iron pan. As she explained to me, if you're making a pan sauce that has acid in it, you need to use a nonreactive pan.
Reprinted with permission from Mastering My Mistakes In The Kitchen
French Fare: Steak Au Poivre Recipe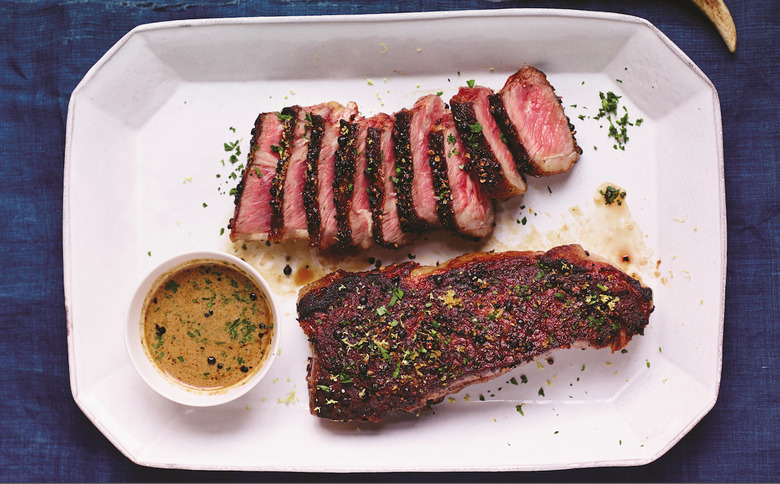 Ingredients
1 1/2 tablespoons black peppercorns
2 (1-inch) thick New York strip steaks (about 1/2 pound each)
kosher salt
2 tablespoons vegetable or canola oil
1/4 cup cognac
2 small shallots
1 tablespoon plus 1 teaspoon Dijon mustard
1/4 cup creme fraiche
1/4 cup freshly squeezed lemon juice
1/4 cup water
2 tablespoons flat-leaf parsley
1 teaspoon lemon zest
Directions
Put the peppercorns on a small rimmed baking sheet and crush them with a small heavy skillet; be sure not to bash them.
Season each side of the steaks generously with salt, then mop up the crushed peppercorns with both sides of the steaks.
Heat a large heavy stainless steel skillet over high heat.
Add the oil and swirl to coat the bottom of the skillet.
When the oil is smoking hot, carefully place the steaks in the skillet, laying them down away from you (so that if any hot fat splatters, it splatters away from you).
Let the steaks cook until the underside is nicely browned and they don't resist when you try to flip them, about 4 minutes.
Turn and cook on the second side until well browned, another 3 to 4 minutes.
Turn the steaks onto their fat edges and brown them until the fat is nice and crisp, about 2 minutes.
Transfer the steaks to a serving dish or dinner plates and let them rest while you make the sauce.
Pour off and discard all but a very thin layer of fat from the skillet.
Take the skillet off the heat and add the Cognac.
Carefully return the skillet to the heat—the alcohol should immediately burst into flames (not a bad thing!); if it doesn't, ignite the Cognac with a long match or lighter.
Once the flames have subsided, lower the heat to medium, add the shallots and a pinch of salt and cook, stirring, until the raw shallot aroma disappears, about a minute.
Whisk in the mustard, crème fraîche, lemon juice and water.
Season the sauce to taste with salt, and add more water if you prefer a looser consistency.
Remove from the heat.
Whisk half the parsley into the sauce and sprinkle the steaks with the remaining parsley.
Season each steak with a pinch more salt and scatter the lemon zest evenly on top.
Spoon the sauce over the steaks and serve immediately.
On pans: When making a pan sauce, acid is boss over cookware. You can use cast-iron for the steak, but not for the sauce. Nonstick pans for steak? No way.
On crushing the peppercorns: Crush them with a small heavy skillet (don't bash them): Focus your weight in the middle of the pan, and push down and forward. Imagine you're smearing peanut butter on toast. Focus some love on the areas that didn't get too crushed. Then use the steaks to mop up the remaining peppercorns as if you're sponging down a counter.
On getting a good crust on the steak: When the crust is terrific and browned and it releases itself—these are built-in visual indicators that tell you the steak is ready to flip. If you notice a spot that isn't too browned, tilt the pan so all the fat collects at the bottom and use a spoon to scoop up the fat and baste that spot—go right over that spot as if you're filling in a blank.
On making the pan sauce: Evaluate how much fat you have in the pan. You might need to pour some off—you don't want your sauce to just taste like fat. As chef Larry Forgione told me twenty-some years ago, you can always put it back in, but you can't take it out. Also, the more hot grease in your sauce, the more likely it is to separate. To thicken the sauce, add grated shallots, which give flavor and vegetal body to the sauce. Mustard is a natural thickener too.
On flambéing: Take the pan off the heat to add the alcohol, then put it back on the flame—you don't want to risk getting flames rising up into the bottle or anything superscary like that.
On garnishing: Add a bit of parsley. You always need a little acid and a little grass. My biggest advice on finishing dishes, though, is to Coco Chanel your food: Take one or two things out before the dish leaves the kitchen. Less is more.
Wasabi Flank Steak Recipe
Argentinian Grilled Steak With Rosemary
Tequila-Marinated Hanger Steak Recipe