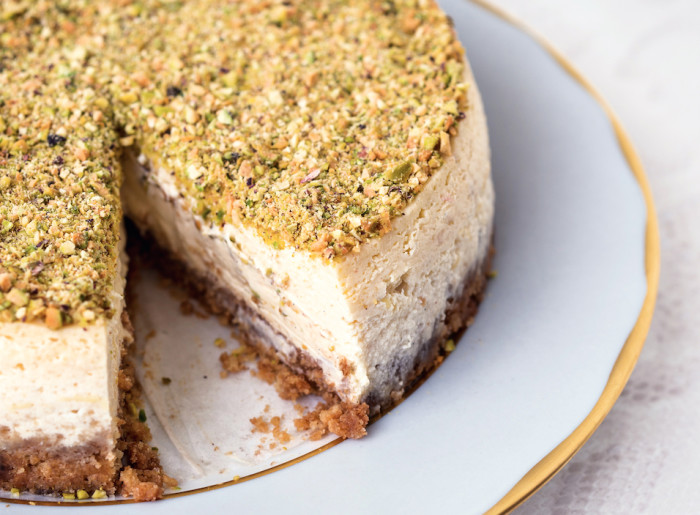 Southern French cuisine is known for its inimitable blend of rustic ingredients and elegant presentations, tried-and-true technique, effortless inventiveness and above all, deliciousness. British chef, author and caterer Nina Parker has a rock-solid foundation in all things French cooking, and her new recipe collection, The South of France Cookbook, is a testament and love letter to the regional cuisine you can indeed re-create in your kitchen at home.
Ingredients
Base
1/2

pound

digestive biscuits, such as McVitie's, or graham crackers

4

tablespoons

soft unsalted butter, plus extra for greasing

Pinch of

ground cinnamon
Cheesecake
1

vanilla bean

1

pound

cream cheese (at room temperature)

1/2

cup plus 2 tablespoons

unrefined superfine sugar

2

free-range large eggs, plus 4 yolks

3/4

cup

sour cream

Finely grated zest of 1 unwaxed lemon

5

tablespoons

Grand Marnier

1

teaspoon

vanilla extract

6 1/2

tablespoons

pistachios, crushed
Directions
For the cheesecake
Preheat the oven to 350°F (180°C) and grease a 9-inch (23-cm) springform cake pan with butter. In a food processor, pulse together the biscuits and butter until they form light crumbs. Pour the biscuit mixture into the prepared pan and flatten it over the bottom to create an even base, then sprinkle over the cinnamon. Firmly wrap the bottom half of the cake in 3 layers of aluminum foil. Set aside in the fridge to cool.

Boil some water in a tea kettle. Split the vanilla bean in half lengthwise and scrape out the seeds with the back of a knife. In a large bowl, beat the cream cheese and sugar with a handheld electric mixer until well mixed. Whisk the eggs and yolks lightly with a fork.

While continuing to beat the cream cheese, slowly add the eggs and then the sour cream, lemon zest, Grand Marnier and vanilla seeds and extract. Smooth the mixture over the chilled base with a spatula and place in a deep roasting pan (at least 1 1⁄2 inches/4 centimeters deep).

Carefully pour the boiling water into the roasting pan so that it comes 1 inch (2.5 centimeters) up the sides of the cake pan. Bake for 30-40 minutes, or until the cheesecake forms a firm top but still has a little wobble. Toward the end of cooking, cover the cake pan with foil to prevent burning. Leave to cool, then place in the fridge for 30 minutes to set.

While the cake is chilling, blitz the pistachios in a blender. Remove the cheesecake from the pan and top with a generous layer of crushed pistachios.