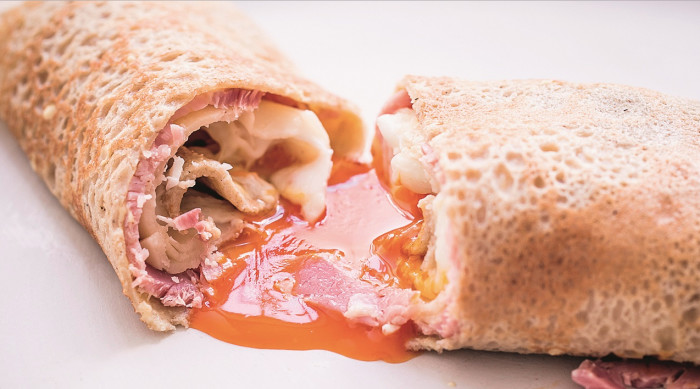 Get your hands on some of the most beautifully photographed egg recipes in one of the best-designed cookbooks we've seen in a while. Egg, by blogger and author Blanche Vaughan, may be a one-subject tome, but it's by no means a one-trick pony. From sweet to savory, breakfast to dinner and every eating occasion in between, this is the collection you'll need to honor those prime free-range eggs you love so much. 
Buckwheat, confusingly, is not related to wheat but comes from the same family as rhubarb, sorrel and knotweed. The flour is made from ground seeds rather than grain and has an inimitable nutty flavor. It doesn't contain any gluten, though, so adding a little all-purpose flour will help the batter hold together.
Savory rolled pancakes are usually served with a sauce poured over the top, which can make them a bit fussy to prepare. Here no sauce is needed as you have the runny yolk from the fried egg that is rolled up inside the pancake.
Also try: These are delicious served with smoked herring roe or other fish eggs and crème fraîche.
Note: Pancakes can be made in advance and reheated easily. Just stack the cooked galettes on top of each other and cover with baking parchment or plastic wrap and store in the fridge until needed. To reheat, put them in a low oven or heat individually in a frying pan with some butter.
Ingredients
1

cup

buckwheat flour

1/2

cup

all-purpose flour

Pinch

fine sea salt

1

cup

milk

1

cup

water

2

eggs, beaten

1

tablespoon

butter, plus a little extra for frying

6-8

eggs

Dijon mustard

6-8

thin slices of

cooked ham

6-8

thin slices of

Gruyere

sea salt and freshly ground black pepper
Directions
For the galettes
Sift the flours into a bowl and add the salt. Put the milk, water, and eggs into a jug and whisk.

Make a well in the center of the flour and pour the milk mixture in, a bit at a time, stirring with a wooden spoon to gradually bring the flour from the sides until you have a smooth batter. Pour the batter back into the jug and leave to rest for at least 30 minutes.

When you are ready to cook the pancakes, melt the tablespoon of butter in the frying pan you are going to use to cook the pancakes, then pour it into the batter. Give the batter a good stir; it should have the consistency of light cream. If not, add a little more water. The pan will now have a good film of butter in it for you to cook your first pancake.

Make sure the pan is really hot and pour a small amount of batter from the jug into the pan, tilting it all around as you go so that the batter spreads in a very thin layer over the bottom. You can pour back any extra batter into the jug.

Cook for a minute or so and then use a spatula to lift up the sides of the pancake and carefully turn over; cook for another minute on the other side until golden brown.

Use a paper towel to rub a tiny bit more butter into the pan before cooking each pancake.

When the pancakes are all cooked, put a little more butter into the pan and fry the eggs, so the white is cooked but the yolks are still runny.

On each pancake, spread some Dijon mustard, lay a piece of ham and cheese on top and put an egg on top of that, then season it with salt and pepper. Roll them up and eat immediately. I like to cut mine just where the yolk is, so it spills through the pancake, like a rich sauce.