French Crêpes Suzette Recipe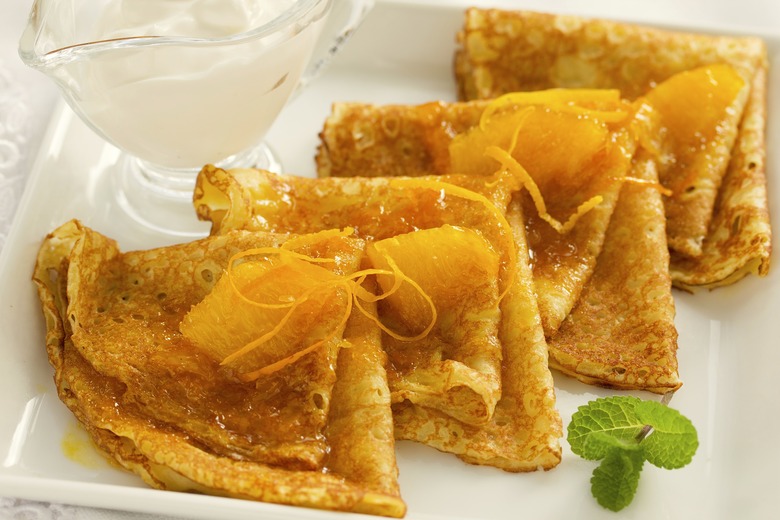 We may receive a commission on purchases made from links.
Crêpes Suzette consists of classic French crêpes accompanied by a beurre suzette sauce made of caramelized sugar and butter, tangerine or orange juice, orange zest and Grand Marnier. Arguably the most famous crêpe dish in the world, Crêpes Suzette actually came into existence by mistake. According to legend, the dish was created by a 14-year-old assistant waiter, Henri Carpentier, in 1895 at Monte Carlo's Café de Paris.
Carpentier was preparing a dessert for the Prince of Wales, the future King Edward VII of England, when he accidentally lit the crêpe on fire: "It was quite by accident as I worked in front of a chafing dish that the cordials caught fire. I thought it was ruined. The Prince and his friends were waiting. How could I begin all over? I tasted it. It was, I thought, the most delicious medley of sweet flavors I had ever tasted. I still think so," he said in Life à la Henri, his autobiography.
This version simplifies the classic by skipping the flambé (and potential fire hazard) without skimping on the flavor. Be sure to refrigerate the crêpe batter for best results.
French Crêpes Suzette Recipe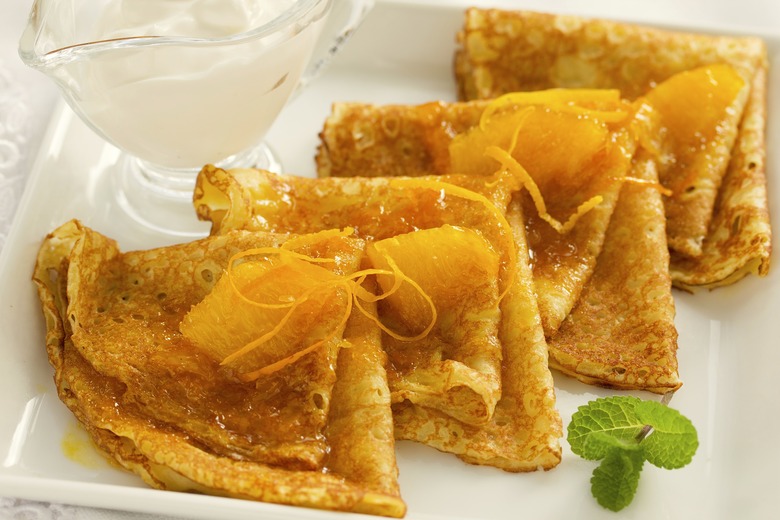 Ingredients
1 cup all-purpose flour
2/3 cup whole milk
1/2 cup cold water
3 large eggs
pinch of sea salt
3 tablespoons good quality butter
1 teaspoon orange zest
1 1/2 cup freshly squeezed orange juice
2 tablespoons white sugar
2 teaspoons orange zest
2 tablespoons Grand Marnier (or other orange liqueur)
Directions
Combine all the crêpe ingredients in a blender and mix on medium speed until smooth. Refrigerate for at least 2 hours or overnight, if possible. If the mixture becomes too thick after refrigeration, add 1/4 cup of cold water. The batter should be very pourable.  
Heat a non-stick frying pan over medium heat. Brush with a small amount of melted butter.
Pour 2-3 tablespoons of batter into the center of the pan and tilt the pan to cover the bottom evenly. Cook about 1 minute. Turn and cook on the other side until the crêpe is a light, golden brown.
For the sauce: Bring the orange juice to a boil in a large skillet over high heat. Add the sugar and zest and simmer. Continue to cook until the sugar has disolved, for about 5 minutes. Remove from heat and add the Grand Marnier.
Working one by one, place each crêpe in the boiled orange juice and allow to absorb the liquid for 1 minute. Remove and serve rolled while still warm.
Benoit's Classic French Escargot Recipe
Simple Tomato Tart Recipe
Tomates Farcies Recipe