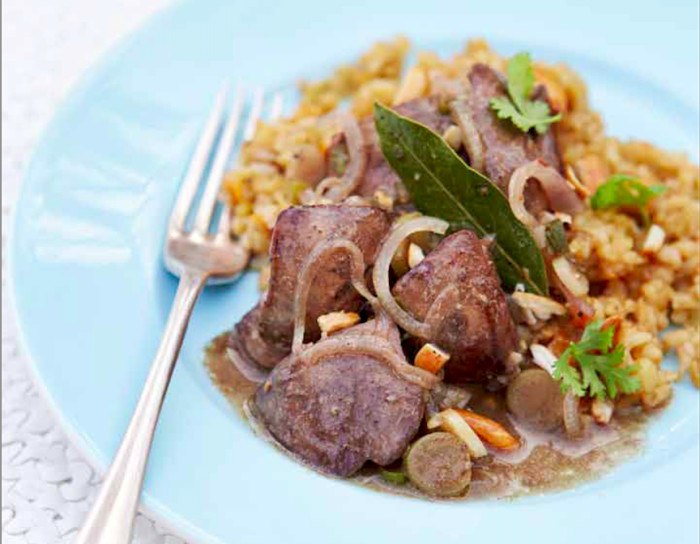 Chef-author Suzanne Zeidy's recent cookbook, Cairo Kitchen, which bears the name of her Cairo restaurant, is more than just a colorful collection of recipes — it's a slice of history. Learn the stories behind some of Egypt's most beloved home-cooked dishes, street food and more. If you thought you loved chicken livers, wait til you pair them with freekeh, a delicious ancient grain. 
This dish is one of the Cairo Kitchen favorites. The wholesome freekeh is cooked with a pinch of allspice and carrots, giving it an ever-so-slight sweetness. The chicken livers are tender, and the almonds give an added crunch to the dish.
Reprinted with permission from Cairo Kitchen: Recipes From the Middle East
Ingredients
3

tablespoons

olive oil

1/2

red onion, thinly sliced

6

spring onions, thinly sliced

2

cups

chicken livers, trimmed

2

cloves

garlic, minced

2

cups

chicken stock

1

bay leaf

pinch

of ground cumin

pinch

of allspice

Juice

of 1/2 lemon

1/2

cup

blanched almonds

handful

of fresh coriander

Salt

and freshly ground black pepper
For the freekeh
2

cups

freekeh

1

clove

garlic, crushed

1/2

red onion, chopped

2

tablespoons

olive oil

1/2

carrot, shredded

1/2

teaspoon

allspice

4

cups

vegetable stock

salt
Directions
Soak the freekeh in water for 1 to 2 hours.
In a hot frying pan, sauté the garlic and onion in the olive oil until softened, but not browned. Add the shredded carrot, the drained freekeh, allspice and salt, to taste, and stir well. Pour in the stock and stir constantly until it comes to a boil.
Reduce the heat to a simmer, cover, and cook for about 35 to 40 minutes until the grains are tender. Meanwhile, to cook the chicken livers, heat the oil in a frying pan, add the red onion and spring onion and sauté them for a few minutes until softened.
Set the onions to one side of the pan and sauté the chicken livers and garlic for just a couple of minutes until the livers are cooked through and no longer pink. Mix the onion back in and add the stock, the bay leaf and then the spices and salt and pepper, to taste.
Lower the heat, cover and cook for about 10 minutes until it is completely cooked through. Add the lemon juice at the end.
Toast the almonds by placing in a dry frying pan and stirring for 2 to 3 minutes until they turn golden brown. Remove the almonds from the pan and chop roughly.
To serve, spoon the freekeh onto plates and top with a serving of chicken livers. Garnish with the fresh coriander and the toasted almonds.
Try some more great Middle Eastern recipes from Food Republic: