Franklin Becker's Little Beet Salad Recipe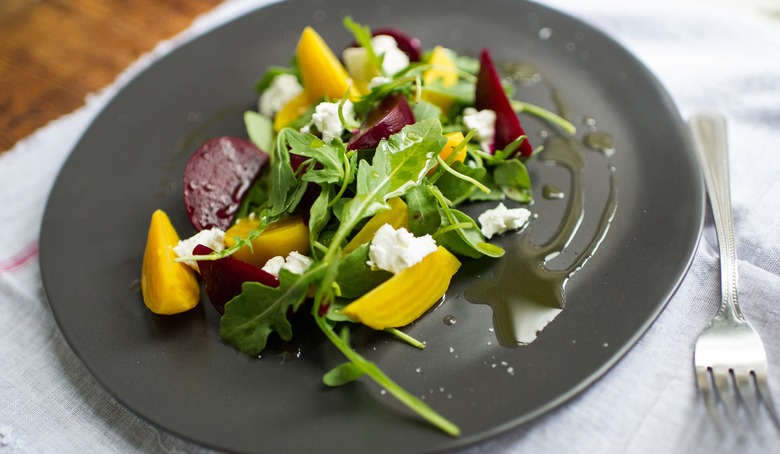 Chef Franklin Becker's new midtown lunch spot in NYC, Little Beet, serves a menu inspired by local, seasonal and natural ingredients. Our personal favorites are the "leafy salads," which include this timeless combination of beets and goat cheese. Need a go-to beet salad recipe? Here it is.
Related: Franklin Becker Did Not Touch The Cactus During His Arizona Holiday
Beets and goat cheese are like peanut butter and jelly: they go together perfectly. Add some oranges and fennel to make this salad really pop with flavor.
Franklin Becker's Little Beet Salad Recipe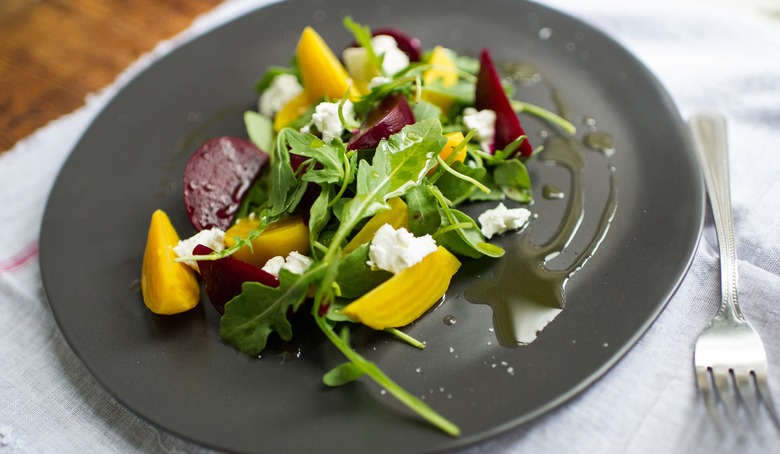 Ingredients
1 bunch baby golden beets
1 bunch baby red beets
1 bunch baby candy striped beets
Salt and pepper
3 tablespoons olive oil
1 tablespoon sherry vinegar
1 tablespoon honey
1 teaspoon Dijon mustard
4 ounces fresh goat cheese
3 tablespoons sunflower seeds
2 teaspoons Maldon sea salt
1/4 teaspoon cayenne pepper
1 tablespoon parsley leaves
1 tablespoon dill
1 tablespoon mint leaves
1 tablespoon Chervil
1 teaspoon lemon zest
1 teaspoon orange zest
1 tablespoon olive oil
Directions
Toss the yellow and red beets separately with olive oil, salt and pepper and wrap in tin foil in a 350 degree oven. Cook till fork-tender, approximately 30 minutes.
Remove from oven and peel the beets while still hot under cool running water. Quarter the beets and toss the in olive oil, sherry vinegar, honey and mustard. Marinate for 1 hour.
Peel and slice the remaining raw candy-striped beets on a mandolin thinly.
Mix the gremolata ingredients together and toss with all of the beets. Adjust seasoning and place on plate. Add goat cheese and serve.
Beet Tartare Recipe
Beet And Spinach Tartine Recipe
How To Make Pickled Beets