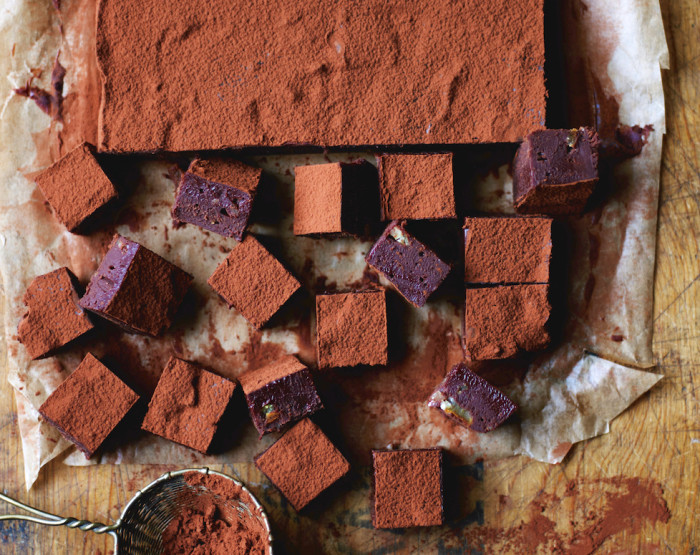 If you've got a candy thermometer and a sweet tooth, cookbook author and food stylist Annie Rigg has Sweet Things, a whole pile of delicious treats for you to make for friends, family…yourself…really, anyone who comes to mind. With foolproof instructions from a master confectioner, homemade chocolate truffles are well within reach.
Serve these rich, sophisticated bite-sized truffles after dinner with coffee. If you want to take them to another level, and blood oranges happen to be in season, I urge you to use them — bitter caramel and blood-orange juice is a marriage made in heaven; add to that some good-quality chocolate and you've got yourself one really fancy truffle.
Ingredients
1/4

cup

superfine sugar

juice of 3 oranges (to yield 3/4 cup)

9

ounces

dark chocolate, finely chopped

1/3

cup plus 2 tablespoons

heavy cream

2

teaspoons

brown sugar

pinch of

salt

2

tablespoons

candied orange peel, finely chopped

cocoa powder for dusting
Directions
Line the baking pan with nonstick parchment paper.
Tip the superfine sugar into a small saucepan and add 2-3 teaspoons water.
Set the pan over low to medium heat to dissolve the sugar.
Bring to a boil and cook steadily until the syrup turns into an amber-colored caramel, swirling the pan to ensure that the caramel cooks evenly. (This will not take long — a couple of minutes at best.)
Remove the pan from the heat and add the orange juice, being careful because it will splatter and hiss as the juice hits the hot caramel.
Return the pan to the heat and stir to remelt the caramel into the juice.
Continue to cook over medium heat to reduce the mixture by half, until you have 1/2 cup syrup remaining.
Remove from the heat.
Meanwhile, place the chocolate into a bowl.
Heat the heavy cream and brown sugar in a small saucepan until just boiling and the sugar has melted.
Pour this into the chocolate, add a small pinch of salt, and stir gently until the chocolate has melted into the cream.
Add the warm caramel orange juice and stir gently to combine.
Add the candied orange peel and stir gently.
Pour the mixture into the prepared pan, spreading level with an offset spatula.
Leave to cool and then cover and chill for at least 2 hours or until firm.
To serve, dust the top of the truffle mixture with a light coating of cocoa and cut into small squares using a warm kitchen knife.
Dip the knife into hot water and dry on paper towels in between each slice to make slicing easier and neater. Remember that these truffles are rich and so should be served in elegant cubes rather than huge slabs.
To Store:
The truffles will keep for up to 1 week between layers of parchment paper in an airtight container in the fridge. Bring to room temperature to serve.
Find more chocolate confections on Food Republic: