France Meets China: Foie Gras Dumplings With Cilantro Beef Consommé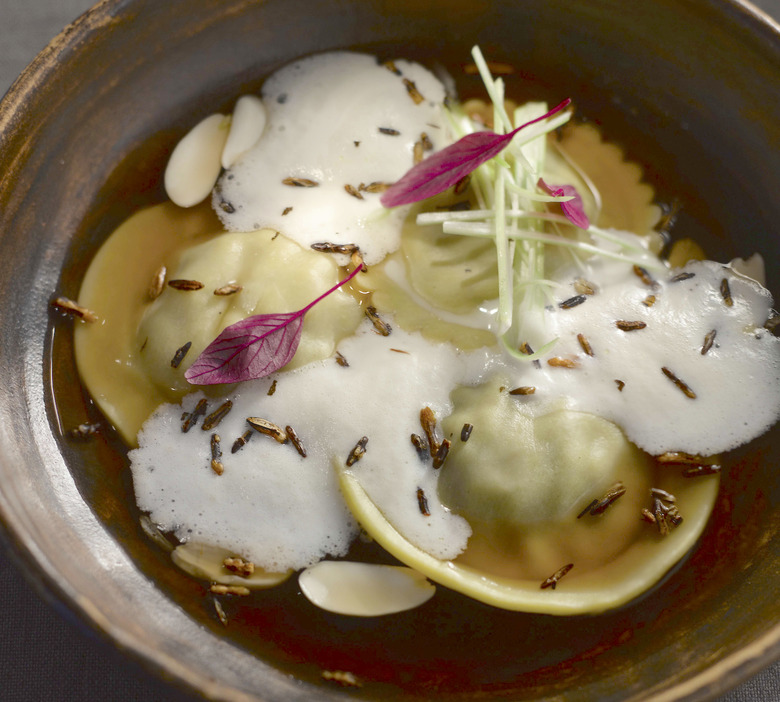 Photo: Claude.Prigent Regards-Culinaires
We may receive a commission on purchases made from links.
The Bordeaux-based chefs group AFAMÉS is headed up by journalist José Ruiz, who taps the organization for regionally influenced recipes and compiles them in a series of cookbooks. The latest, Foie Gras Sud-Ouest — 36 Recettes Inouïes de Chefs (incredible chefs' recipes, roughly), features all sorts of delectable spins on the main ingredient, including this mouthwatering mash-up from Aurélien Crosato.
A young chef who previously worked in kitchens in Paris and San Francisco, Crosato opened the respected Soléna in Bordeaux with his wife, Serena Lee, a California expat. In case your own plans aren't taking you to southwest France's famed wine region anytime soon, try making Crosato's take on Chinese dumplings — which sub in duck foie gras for pork stuffing. In the photo above, he employs ravioli, but in the version of the recipe he translated for us, the ingredients call for a more traditional wonton wrapper. Either way, this could make for an unexpected main, starter or even an ambitious dim sum entry.
France Meets China: Foie Gras Dumplings With Cilantro Beef Consommé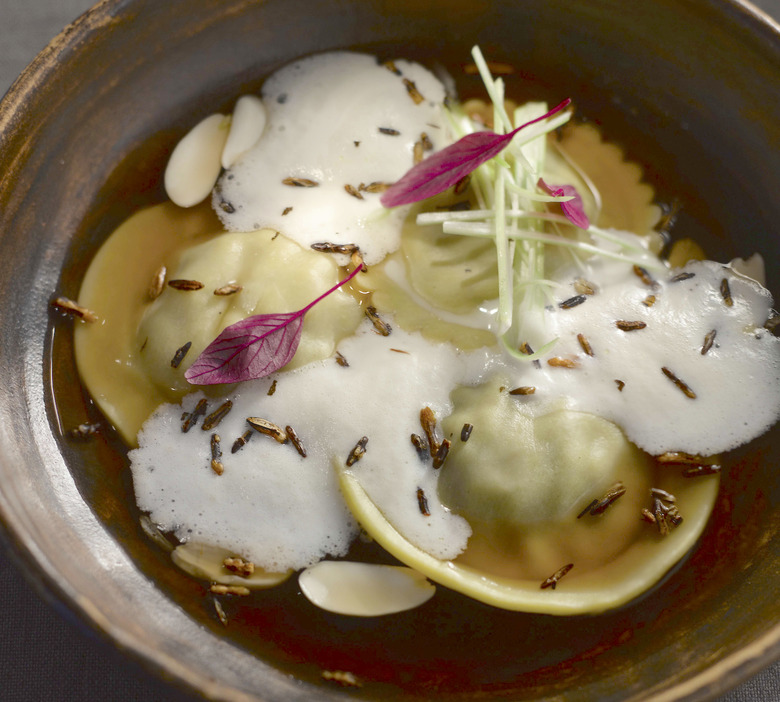 Ingredients
2/3 cup diced foie gras
24 wonton wrappers
1 cup napa cabbage
1 2/3 cups beef consommé or broth
fresh cilantro sprigs
spring onion
Raw slivered almonds
Wild rice
1/2 cup coconut milk
Salt and pepper
Directions
In a medium-sized bowl, gently mix together the foie gras, napa cabbage, salt and pepper.
Place 1 tablespoon of the filling in the middle of the wonton wrapper.
Dip your finger in water and run it around the edge of each dumpling wrapper.
Fold the dumpling into a half-moon (or a triangle, if using square-shaped wrappers) and press closed.
Bring the consommé to a slow simmer.
Place the dumplings in the simmering broth and cook for approximately 5 minutes or until heated through.
Serve the dumplings and broth in a soup bowl.
Garnish with the cilantro, spring onion, almonds and toasted wild rice.
Add a few spoonfuls of coconut milk to taste. Serve while hot.
The Slanted Door's Famous Pork-And-Shrimp Wontons With Spicy Chile Oil Recipe
Crispy Shrimp Gyoza Recipe
Wolfgang Puck's Pot Sticker Recipe