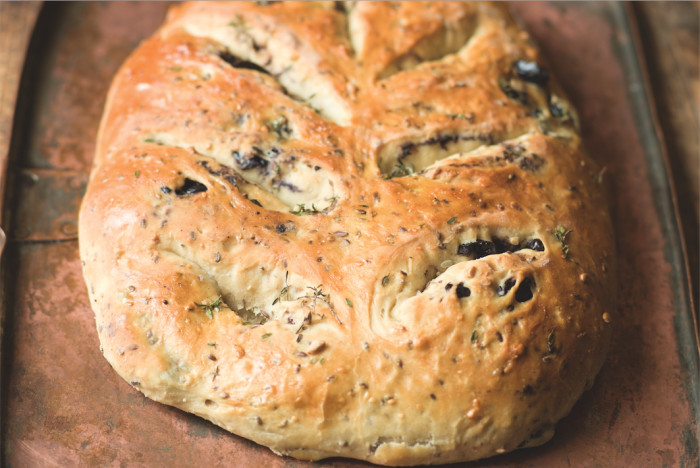 Michel Roux Jr. is one of Britain's most celebrated French chefs, helming renowned London restaurant Le Gavroche and author of the new cookbook The French Kitchen. Not for the beginner, yet not so advanced you'd need two Michelin stars (like Roux has) to pull them off, these recipes honor the foundation of classic French cuisine while looking to the future. This rustic, delicious French bread studded with briny olives is a much-loved confection all over the country. Re-create it in your kitchen and serve warm with a smear of butter.
Ingredients
3/4

ounce

fresh yeast

1 1/2

cups

warm water (110-115°F)

4

cups

multi-grain flour, plus extra for rolling

1

teaspoon

salt

4

tablespoons

olive oil

1/3

cup

good-quality olives, pitted and cut in half

1

free-range egg, beaten

coarse sea salt
Directions
For the flatbread
Dissolve the yeast in a little of the warm water in a large bowl. Add the flour, salt, the rest of the water, and the olive oil, then knead until the dough is smooth and very elastic – this will take about 10 minutes. Cover the dough with a damp cloth and leave it to rise in a warm place until doubled in size, about an hour.

Knead the dough again briefly and add the olives. Roll it out on a floured surface to form a rough leaf shape, about ¾ inch thick, and place this on a baking sheet. Using a sharp knife, cut 6 or 7 slits in the dough and open them up so you can see the baking sheet.

Preheat the oven to 475°F. Brush the dough lightly with the beaten egg, sprinkle with coarse salt, and bake until golden brown, about 9 minutes. Let cool on a wire rack.