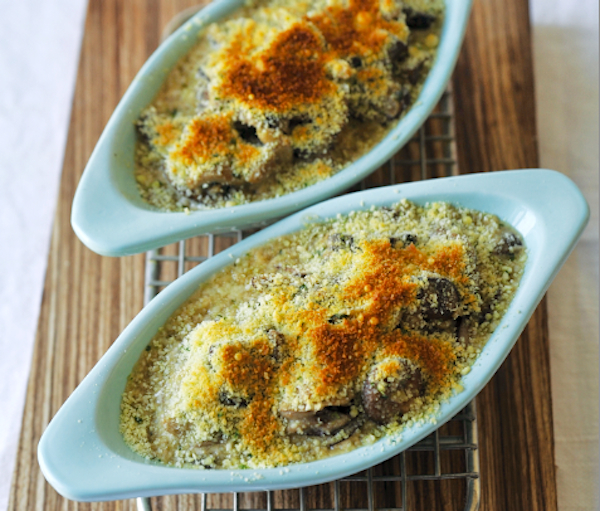 Cookbook author, food and drink writer and Food Republic contributor Chris Chamberlain loaned us this dish from his new book, The Southern Foodie, which, by the way, sold like hotcakes on QVC. His mushroom gratin recipe makes a great side for a weeknight dinner, or a fancy yet comforting addition to a holiday meal. Use any kind of mushrooms you like, especially while they're in season.
Ingredients
For the crust
1 1⁄2

cup

panko bread crumbs

1/4

cup

Parmigiano-Reggiano cheese, grated

1

teaspoon

fresh basil, chopped

1

teaspoon

fresh thyme, chopped
For the mushrooms
2

tablespoons

olive oil

2

tablespoons

unsalted butter, divided

1

cup

shallots, diced

2

quarts

store-bought wild mushrooms, cleaned and coarsely chopped

1

tablespoon

fresh minced garlic

1 1/2

cups

white wine

1

cup

heavy cream

1

tablespoon

fresh basil, chopped

1

tablespoon

fresh Italian flat-leaf parsley, chopped

1

tablespoon

chopped fresh thyme

salt
Directions
Preheat the oven to 425°. To make the crust, place the breadcrumbs in a food processor and blend on high until thoroughly processed.
Add the cheese, basil, parsley, thyme, salt, and pepper and pulse to mix. Adjust the seasoning if necessary.
To make the mushrooms, heat a medium sauté pan over high heat. Add the oil and 1 tablespoon of the butter. When the oil and butter are lightly smoking, add the shallots and sauté for 1 minute, until golden.
Stir in the mushrooms and garlic. Reduce the heat to medium-high. Cover the pan and continue to cook for 1 minute.
Uncover the pan and deglaze with the white wine. Cook until the wine is reduced to a glaze.
Stir in the cream and cook until reduced by half.
Stir in the remaining 1 tablespoon butter, basil, parsley, thyme, salt, and pepper. Taste and reseason if necessary.
Spoon the mushroom mixture into 4 ramekins and liberally sprinkle with the crust. Bake until the crust is golden brown, 15 to 20 minutes. Serve immediately.
More gratins on Food Republic: