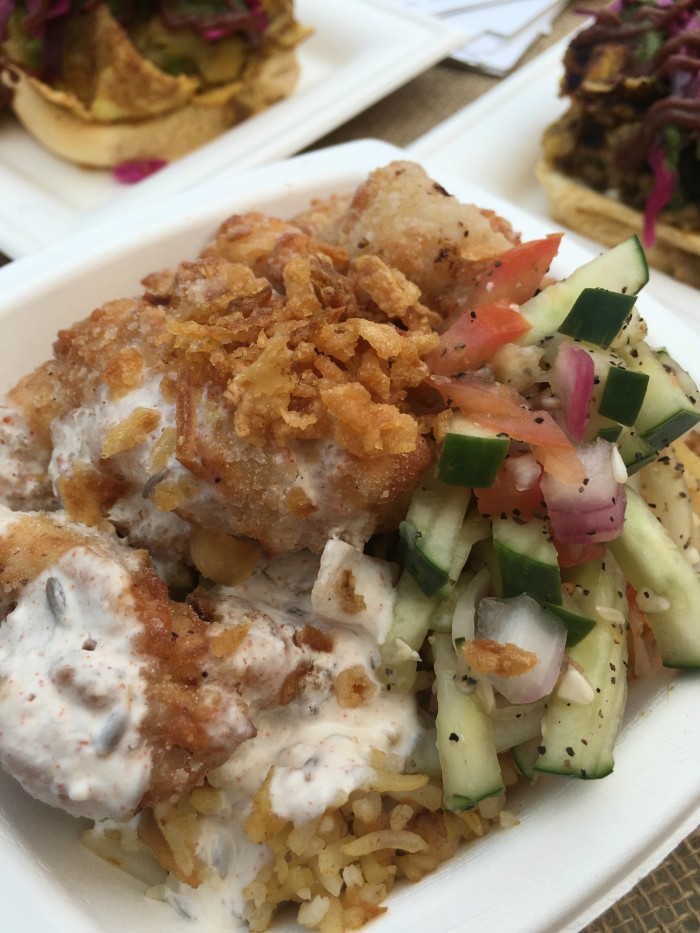 Once in a while, we'll discover a dish at renowned Brooklyn food truck frenzy Smorgasburg that really catches our eye. Chef Fatima Ali of VanPakistan serves up locally sourced, Pakistani-inspired fare that hits all the right notes.

"A traditional Hyderabadi chicken biryani was one of my favorite dishes growing up — layers of fluffy, spice-laden rice, succulent, savory stewed chicken and potatoes that were perfectly soft yet held their shape completely," says Ali. "I was enamored with the skill it took to make the perfect biryani, and as I began my professional culinary journey in NYC, I mastered many dishes, but never a biryani."

Ali went back to Pakistan for four months last year and learned the dish from a few households there; this is her spin on it. "The crispness of the rice flour fried chicken and ease of eating it without the bone harmonizes with the essence of the kind of food I make — traditional at the core but elevated to a more modern, playful platform," she explains.

Skip the lines and try it at home…but really, wait on line and have the real deal at Smorgasburg.
Ingredients
For the chicken
3

boneless, free-range chicken breasts, cut into thin strips

1

cup

buttermilk

1

tablespoon

garam masala

1

tablespoon

salt
For the flour mix
1

cup

rice flour

1

teaspoon

salt

1

teaspoon

Kashmiri chili powder
For the biryani base
3

cups

long grain basmati rice, cooked halfway in plenty of boiling, salted water and drained well

1

yukon gold potatoes, diced

2

cups

puréed fresh plum tomatoes

1/2

cup

yogurt

2

sliced red onions

2

tablespoons

ghee

10

cloves of

garlic puréed to a paste

4

inches of

ginger puréed to a paste
4

green cardamom

2

black cardamom

1

tablespoon

cumin seeds

1

tablespoons

coriander seeds

1

tablespoon

Kashmiri chili powder

2

teaspoons

turmeric

5

cloves

2

bay leaves

1

large stick

cinnamon
Directions
For the chicken
Mix everything well and let sit overnight.
For the biryani
Dry roast all the spices and grind to a fine powder using a spice/coffee grinder. Set aside.

Fry the sliced onions in ghee, stirring often till golden brown and soft. Add the spices, ginger and garlic paste and potatoes. Season liberally with salt and sauté for a few minutes till the paste separates from the oil. Add the puréed tomatoes, yogurt and enough water to cover the potatoes. Cook till potatoes are 3/4 of the way done. Check for seasoning and adjust accordingly.

In a heavy-bottom pan, begin layering the biryani. Start with a few spoons of the gravy mixture; spread evenly. Spoon the par-cooked rice over the gravy loosely till covered. Continue to layer till rice and gravy are all evenly distributed in alternating steps.

Place a tight-fitting lid over the rice (you can also reinforce with a layer of foil) and place the pot over a low flame. Steam the biryani for 20-25 minutes; don't be tempted to lift the lid! Turn the heat off and let the pot sit for an additional 10 minutes before fluffing the rice.

Dust the marinated chicken strips in the seasoned rice flour and fry in 375° oil/lard of your choice for 6-8 minutes till golden brown. Drain excess fat well.

To plate, spoon the mixed biryani in a bowl and top with the fried chicken. Garnish with sliced cucumbers, fresh chopped cilantro, mint and a spoon of yogurt.