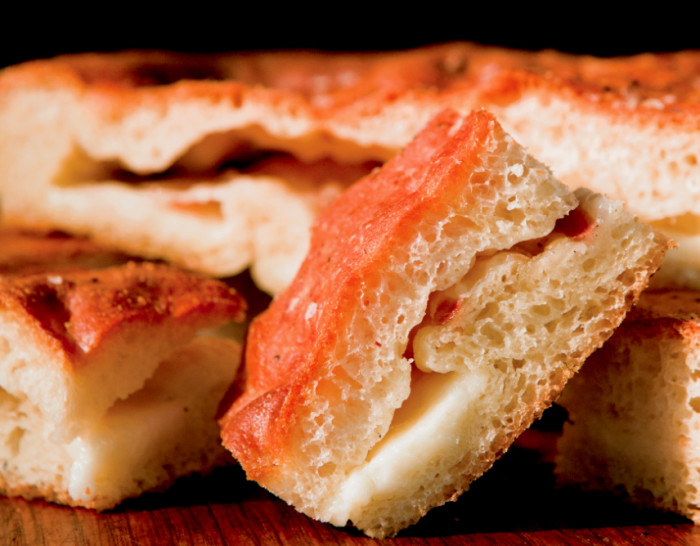 There's nothing quite like a travelogue cookbook by an award-winning chef, which is why we're loving Jeff Michaud's new book, Eating Italy. Guess who else loves it? Well, we won't call out the whole list of glowing reviews by name but…Bastianich, Silverton, Symon, Bloomfield and Waxman are a few. If you're a fan of authentic Northern Italian cuisine, this beautifully photographed book belongs in your kitchen.
On our first trip to Liguria, Claudia and I stopped in Bergeggi, a tiny beach town near Genoa. Claudia stuck her head out the window, took one whiff, and said, "Stop the car." She didn't know where the focaccia was, but she could smell it. We found a line of people, pulled over, and got in line. The store sold twenty different kinds of stuffed focaccia — Speck and blue cheese, tomatoes and arugula, Nutella… you name it. You order whatever you like in hundred-gram increments, and they slice off your order and warm it in a wood oven.
We got Speck and crescenza, cipolline and Gorgonzola, artichoke and Parmigiano, and Nutella. That was our lunch. Here's my northern Italian twist with pancetta and Taleggio. Try it warm out of the oven or at room temperature alongside a soup or pasta dish.
Ingredients
1 1/2

packed tablespoons

fresh yeast, or 2 1/4 teaspoons active dry yeast

3 3/4

cups

bread flour

1 1/2

teaspoons

salt

1

tablespoon

extra virgin olive oil, plus more for drizzling

2

cups

taleggio cheese, shredded

4

ounces

pancetta, julienned

1

teaspoon

flake sea salt

1

teaspoon

freshly ground black pepper
Directions
If using fresh yeast, put the yeast, flour and 1 1/3 cups of cold water in the bowl of a stand mixer. If using active dry yeast, put 1 1/3 cups warm tap water (about 110ºF) in the bowl of a stand mixer, mix in the yeast and let stand for 5 minutes until foamy; then add the flour.
Using the dough hook, mix on low speed for 2 to 3 minutes. Switch to medium speed, add the salt and stream in the olive oil. Mix until the dough is smooth and silky, about 10 minutes. Transfer the dough to an oiled bowl and let rise in a warm spot until doubled in bulk, about 1 hour.
Oil a half-sheet pan (an 11 x 14-inch rimmed baking sheet), and then punch down the dough and turn it out onto the oiled pan. Fold the dough over itself in thirds, and let rise in a warm spot for 30 minutes. Punch down the dough, fold it over itself in thirds again and let rise in a warm spot for another 30 minutes.
Cut the dough in half and press half of the dough into the baking sheet so it is about 1/4 inch thick. Roll up the pressed out dough and set aside. Re-oil the pan and press the other half of the dough into the pan so it is about 1/4-inch thick. Scatter the cheese and pancetta over the dough in the pan, leaving a 1/4-inch border around the edge. Unroll the other half of the dough over the cheese and pancetta and pinch the edges to seal. Dimple the surface all over with your fingertips and let rise in a warm spot for 30 minutes.
Preheat the oven to 500°F. Turn on convection if possible. Drizzle the top of the focaccia with olive oil and sprinkle on the flaked salt and freshly ground black pepper. Bake until golden brown, 20 to 25 minutes. Let cool in the pan on a wire rack and cut into 3-inch squares. Serve warm or at room temperature.
Try out these Italian recipes on Food Republic: