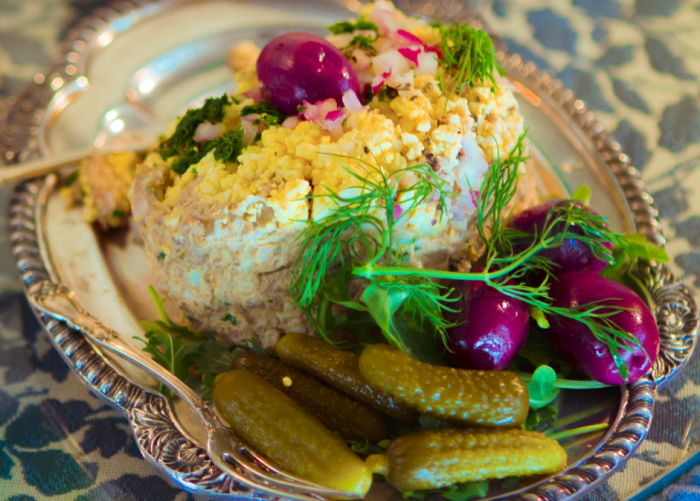 Rosh Hashanah starts tomorrow at sundown and lasts until Friday, and we're super-excited to nosh on some of our favorite Jewish dishes to celebrate the new year. We borrowed a recipe for chopped chicken liver from cookbook author and executive chef of New England Soup Factory, Marjorie Druker.
"No Jewish holiday would feel complete without chopped chicken liver. We make it all year round, but find that we make the most around the Jewish holidays," says Druker.
What we do differently is roast our chicken livers in a hot oven with melted chicken fat and kosher salt. We cook each ingredient separately and then fold it all in by hand. This provides the perfect texture for this mouthwatering Jewish treat!"
Reprinted with permission from New England Soup Factory Cookbook
Ingredients
2

pounds

chicken livers (best quality)

4

tablespoons

melted chicken fat

2

pounds

finely diced red onion, plus 2 tablespoons chicken fat

8

hard-boiled eggs, chopped medium-fine in the food processor

2-3

tablespoons

freshly chopped parsley

kosher salt and freshly ground black pepper to taste (and be generous)
Directions
Place the livers in a small roasting pan. Pour on the melted fat and season with salt and pepper. Place in a 375 degree oven for 30 minutes or until the middle of the liver is no longer pink.
In a large sauté pan add some additional chicken fat and sauté the red onions for 20-25 minutes until soft. Season the onions with salt and pepper.
Place the roasted livers in the food processor and pulse on and off 10-12 times. Do not make it mushy — you want it to look like a very coarse grind.
Place the livers in a mixing bowl and add the sautéed red onions and chopped eggs (reserve a 1/2 cup for garnish). Add the chopped fresh parsley and season with salt and pepper. Stir with a wooden spoon or plastic spatula gently to keep it fluffy. Chill until serving.
When serving, scoop out onto cups of crisp lettuce leaves and garnish. Serve with plenty of cut rye bread.
For garnish: Set aside some chopped raw red onions, chopped egg, parsley and freshly ground black pepper and black olives. I like to serve the chopped liver with pieces of good rye bread and challah as an appetizer.
Try out these Jewish Cooking recipes on Food Republic: