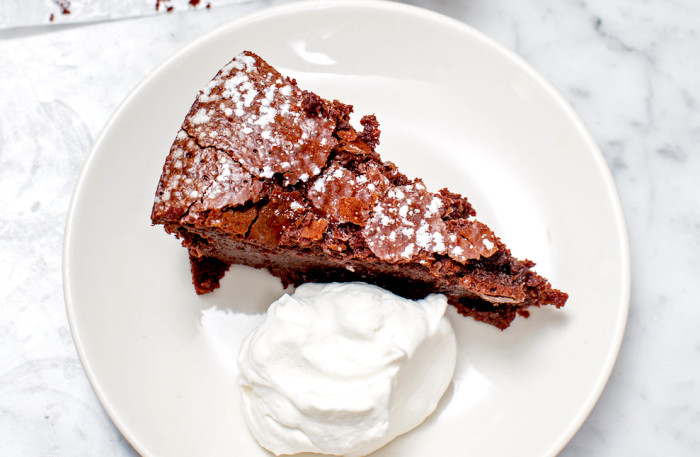 The universally appealing cuisine at NYC restaurant Jack's Wife Freda is inspired by the global Jewish comfort foods that fueled the childhoods of owners Dean and Maya Jankelowitz. Tuck into matzo ball soup, all manners of hearty egg dishes, lots of lamb, fresh vegetables and even tagine with couscous. And for dessert, don't miss their famous spicy-rich flourless chipotle chocolate cake.
In essence this dessert has more in common with a souffle than a cake, but nonetheless it is a decadent end to a great meal. Try to find a good-quality semisweet chocolate that is at least 60 percent cocoa. Julia's addition of chipotle lends just a touch of spice to her signature recipe, which couples beautifully with the richness of the chocolate.
Ingredients
1

pound

butter

1

pound

good-quality semisweet chocolate (at least 60% cocoa)

2

cups

sugar

10

large eggs

1/2

teaspoon

ground chipotle
Directions
For the cake
Melt the butter in a microwave or a double broiler. If the chocolate is in bar form, chop it into small pieces, add the chocolate to the butter, and mix with a spatula until melted and completely smooth, making sure there are no bits of chocolate left.

In a large bowl, whisk the sugar, eggs, and ground chipotle until light and frothy. Slowly add the chocolate mixture to the eggs and mix until fully combined and the color is uniform.

Grease a 10-inch springform pan with baking spray and pour the batter into the pan. Refrigerate the cake for at least 30 minutes or overnight.

Preheat the oven to 300°F. Place the springform pan on top of a baking sheet. Place on the middle rack in the oven. Bake for 1 hour and 30 minutes. The cake will puff up, sometimes over the top of the pan; if this happens, carefully tuck the sides back into the pan once the cake has finished baking. The cake will fall naturally as it cools.

Let the cake set for at least 30 minutes before removing the sides of the pan. Note that the center of the cake will be set but still soft. Serve in small slices garnished with your choice of topping, such as whipped cream, fresh berries, or caramel.