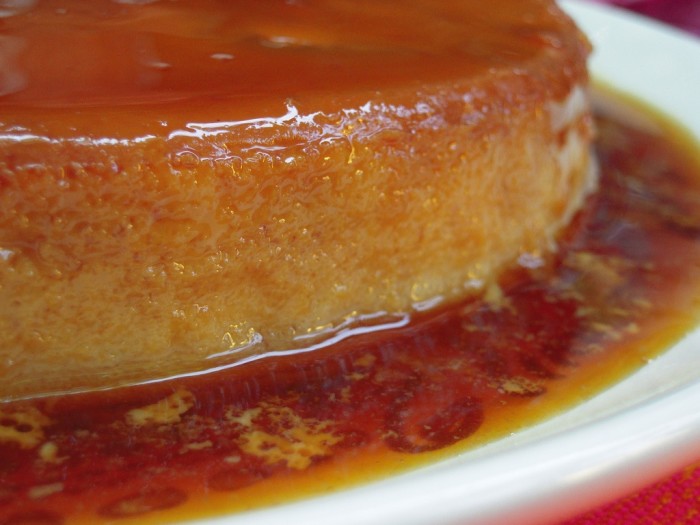 There are few things that smell as flowery and fresh as lavender. It's tricky to use as an herb in cooking, but baking with lavender is another story.
Adding lavender to a flan not only plays well off the caramel, but when made correctly, this luscious dessert also produces one of the most amazing aromas you'll ever experience in a kitchen. Some suggest that lavender flan is an aphrodisiac, which might just make it the perfect way to end a meal.
Ingredients
Custard
2

cups

whole milk

1/2

cup

sugar, divided

1

tablespoon

lavender, fresh, roughly chopped (or 1 teaspoon dried, medium ground)

3

eggs

2

egg yolks
Caramel
2/3

cup

sugar

1/2

lemon, juiced
Directions
To make custard:
Combine milk, 1/4 cup sugar, and lavender in a heavy-bottomed pot. Scald the milk and let stand for 30 to 60 minutes. Strain out lavender.
In a mixer, combine the eggs and 1/4 cup sugar and beat until the mixture turns light yellow, approximately 2 minutes.
Reheat milk to approximately 160 degrees and pour about 1/4 cup into egg mixture while stirring. Add another 1/4 cup of the hot milk and continue stirring. Now, pour egg mixture back into the pot.
Heat mixture to 180 degrees or until the mixture completely coats the back of a wooden spoon. To avoid scrambling the custard, quickly pour the mixture into a bowl sitting in ice.
Store the custard in an airtight container. The mixture will hold for up to three days in the refrigerator.
To make caramel:
To make the caramel, lightly spray six 4-ounce ramekins or aluminum custard cups.
Place lemon and sugar in a heavy-bottomed pot. Over medium heat, cook mixture until it turns a light amber color.
To Finish:
Pour about an 1/8 inch of the mixture into the cups.
Preheat oven to 325 degrees. Place cups in a baking pan and pour custard into cups.
Pour hot water halfway up the sides of the cups.
Depending on the efficiency of your oven, bake 25 to 45 minutes or until edges have set and the middle is just barely firm. Some cups may finish before others.
Carefully remove cups to a dry pan to cool. Once cool, cover and place in refrigerator for a minimum of six hours or overnight.
To serve:
Place cups upside down on a dessert plate. Flan will slide out and the caramel sauce will spread out over the plate.