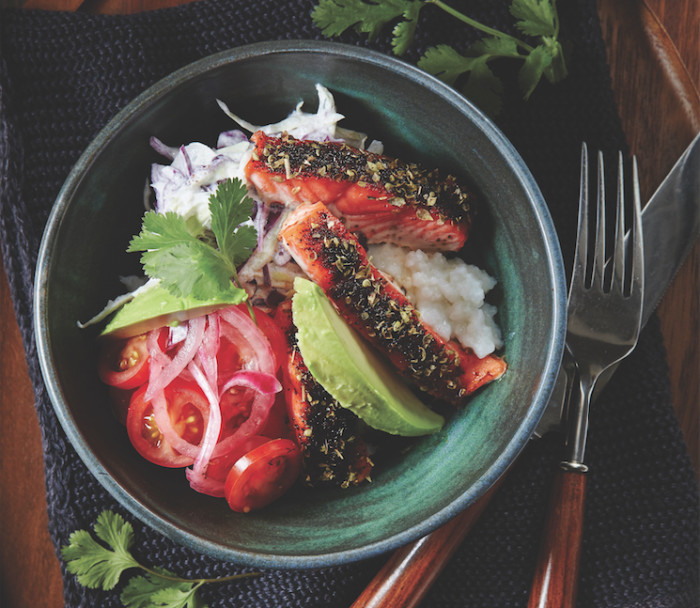 Unless you've been completely checked out for the past few years, you've noticed that the humble bowl has been elevated to more of a "large holy grail" when it comes to healthy cooking, fast-casual dining and all-in-one meals. Cookbook author and chef Robin Asbell is on it with a new collection of recipes that has everything you want (and more) all in one simple vessel. This fish taco bowl comes together so beautifully you may forget about tortillas for a while. 
Mexican and Southern foods have formed a fusion of their own, and grits are a perfect player in that game. Instead of tortillas, soft and creamy grits say Georgia, while the fish taco fixins say SoCal. We can dig in wherever we live, just because this bowl is so dang tasty.
Ingredients
1

cup

grits

2

cups

water

1

cup

whole milk

6

teaspoon

salt

canola oil, for pan

1

pound

salmon or other firm fish

1

teaspoon

ancho chile powder

1

teaspoon

oregano

2

teaspoons

light brown sugar

1

teaspoon

coarse salt

3

cups

shredded red and green cabbage

6

cups

sour cream or crema

1

teaspoon

fresh lime zest

1

tablespoon

fresh lime juice

1

cup

cherry tomatoes, sliced

1/2

cup

cilantro, torn

6

slices

pickled red onions, optional

hot sauce, optional
Directions
For the bowl
Preheat the oven to 400°F.

In a 1-quart pot, combine the cooked grits, water, milk, and salt and place over high heat to bring to a boil. Stir frequently. Once it boils, turn to low and cover; stir every 5 minutes for a total of 15 minutes. It should be thick. Take off the heat and let stand, covered.

Use canola oil to smear on a sheet pan for the salmon. Slice the fish into four portions and place on the pan, not touching. In a cup, mix the chile powder, oregano, light brown sugar, and salt. Sprinkle over the salmon pieces and pat to adhere.

Bake the salmon for 10 to 15 minutes, just until pink in the center.

In a medium bowl, mix the cabbage, sour cream or crema, lime zest and juice.

In each bowl, serve 1 cup of grits, topped with 1/4 of the fish, 1/2 cup of the cabbage salad, 1/4 cup cherry tomatoes, and a tablespoon of cilantro. Add pickled red onions and hot sauce if desired.