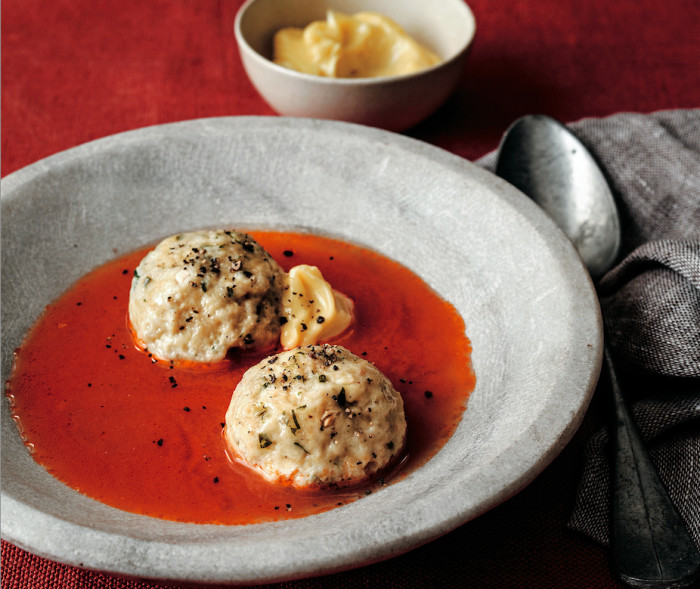 When it comes to the very best of kosher food and wine, look no further than renowned winemaker and cookbook author Jeff Morgan. Morgan's new book, The Covenant Kitchen, features recipes he's collected on his travels to Italy, Provence, North Africa, Asia, California and Israel. This is definitely the book in which you'll find your new favorite fish recipe.
We love fish soup. One long-ago Passover, we suddenly wondered, "Why don't we make matzo ball soup with fish stock instead of chicken stock?" This saffron-colored variation on a traditional theme has now become our standard. The list of ingredients may seem long, but most of them are simply thrown in the pot, boiled, and then strained. Don't be daunted by purchasing a 3- to 4-pound ocean fish! If you are using the fish head, you don't need to remove the gills — contrary to popular belief, we haven't found them to add any bitterness.
It's best to make both the matzo balls and soup a day in advance, or at least the morning before you serve them, especially as the matzo balls need to chill for three hours. The aioli in this recipe adds a wonderful richness to the soup, mixed into the broth just before eating. We have enjoyed this soup with a number of wines and found that it pairs especially well with rosé and any racy, dry white wine such as Sauvignon Blanc, Chenin Blanc or Chardonnay.
Ingredients
Matzo Balls
4

eggs

1/4

cup

extra virgin olive oil

1/4

cup

water

1

cup

matzo meal

2

cloves

garlic, minced

2

tablespoons

fresh cilantro, minced

1

teaspoon

salt

Freshly

ground pepper
Soup
2

tablespoons

extra virgin olive oil

2

onions, sliced

3

carrots, coarsely chopped

3

celery stalks, coarsely chopped

1

3-4 pound saltwater fish, scaled and gutted

1/2

teaspoon

dried thyme

1

bay leaf

2 to 4

sprigs

flat-leaf parsley

1

large head

garlic, halved

2

tablespoons

tomato paste

2 1/2

pounds

chopped fresh tomatoes

1

teaspoon

saffron threads

1/4

teaspoon

cayenne pepper

1

large potato, peeled and coarsely chopped

1

teaspoon

sea salt

Freshly

ground pepper
Aioli
1

egg yolk, at room temperature

A pinch

of

salt

1

clove

garlic, minced or crushed in a garlic press

A

pinch of

saffron threads

1

cup

extra virgin olive oil
Directions
To make the matzo balls:
In a large bowl, combine the eggs, olive oil, water, matzo meal, garlic, cilantro, and salt. Add a few grinds of pepper. Using a whisk or wooden spoon, gently mix to incorporate all the ingredients.
Cover the bowl and refrigerate for at least three hours.
When the matzo mix is firm to the touch, remove it from the refrigerator and shape it into 10 to 15 balls about the size of ping-pong balls. Rinse your hands between forming each few balls to prevent them from sticking. Lay the matzo balls out on a flat surface coated with wax paper.
Fill a large skillet halfway with lightly salted water and bring to a boil over high heat. Use a large spoon to gently lay the matzo balls into the water in a single layer.
Cover the pan and reduce the heat to medium-low. Cook until the matzo balls have expanded and are firm to the touch, approximately 45 to 50 minutes. Use the matzo balls immediately or let them cool and refrigerate for up to three days.
To make the soup:
While the matzo balls are chilling in the refrigerator, heat 2 tablespoons extra virgin olive oil in a large saucepan or soup pot over medium heat. Add the onions, carrots, and celery and sauté until tender, about 5 minutes. Add the fish to the pot, cutting it if necessary to fit. Cook the mixture until the flesh begins to fall off the bones of the fish, about 10 minutes.
Add the thyme, bay leaf, parsley, garlic, tomato paste, tomatoes, saffron, cayenne pepper, potato, and salt. Add enough water to cover the contents. Bring to a boil, reduce the heat to medium and simmer, covered, until the potato is tender, approximately 45 minutes.
Let the soup cool for about 15 minutes. Working in batches if necessary, coarsely pulse the fish soup in a blender or food processor. Strain the puree through a fine-mesh sieve or colander into a large bowl or pot, forcing the liquid through by pressing on the solids with the back of a large spoon or the bottom of a coffee mug. Discard all the solids. Strain the soup one more time through a fine-mesh sieve into a large pot to remove as many remaining solids as possible.
To make the aioli:
To prepare by hand, first whisk together the yolk, salt, garlic, and saffron. Whisk in a little bit of olive oil until the mayonnaise begins to thicken. Continue adding the oil, a small amount at a time, taking care not to let the mayonnaise liquefy. When you have finished adding the oil, whisk in the lemon juice. Add additional salt to taste.
To prepare using a food processor, pulse the yolk, salt, garlic, and saffron in the machine. With the processor running, add the olive oil in a fine stream. Transfer to a medium bowl and whisk in the lemon juice. Add additional salt to taste.
To serve:
Add the cooked matzo balls to the soup in a large pot and reheat over medium-high heat. When the soup starts to bubble, reduce the heat to medium, cover the pot, and continue to heat until the matzo balls are heated throughout, approximately ten minutes.
Ladle the soup into individual soup bowls with one or two matzo balls per serving, and add aioli as desired and pepper to taste. The aioli can be used immediately or can be covered and refrigerated for up to three days.
More Jewish holiday dishes on Food Republic: