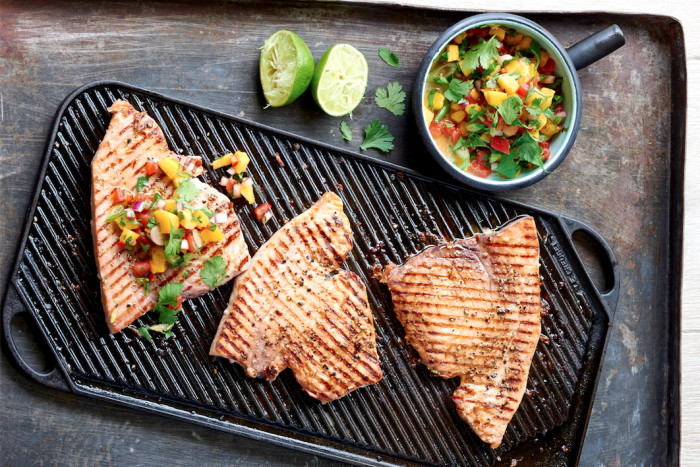 You don't have to commit to the paleo diet full time to reap its nutritional and weight-loss benefits. Pick up a copy of healthy-eating expert Daniel Green's new cookbook, Paleo Monday to Friday.

Swordfish is a lovely meaty fish that holds up really well to high heat, so it's the perfect choice for a barbecue. Try this dish with tuna and salmon as an alternative, too.
Ingredients
For the salsa
1/2

ripe mango, peeled, pitted and finely diced

1

small red chili, finely diced

4

plum tomatoes, seeded and finely diced

1/2

red onion, finely chopped

3

scallions, finely sliced

2

garlic cloves, finely chopped

A

handful

fresh cilantro, chopped

Juice of 1 lemon or lime

About 4

cups

salad leaves
4

7 1/2-ounce

swordfish steaks (about 3/4-inch thick)

sea salt and freshly ground black pepper

1

tablespoon

olive oil

About 4

cups

salad leaves, to serve
Directions
For the swordfish and salsa
First make the salsa: Place all the ingredients in a large bowl, mix to combine thoroughly, and season to taste.

Lightly season the swordfish on both sides. Heat the oil in a grill pan until really hot and cook the steaks for 2 minutes on each side, then cover, and take off the hot pan for 3 to 4 minutes.

Arrange the salsa on a plate, top with the fish, and serve with a side salad of mixed leaves.