Fingerling Potato Salad With Dill And Lemon-Saffron Vinaigrette Recipe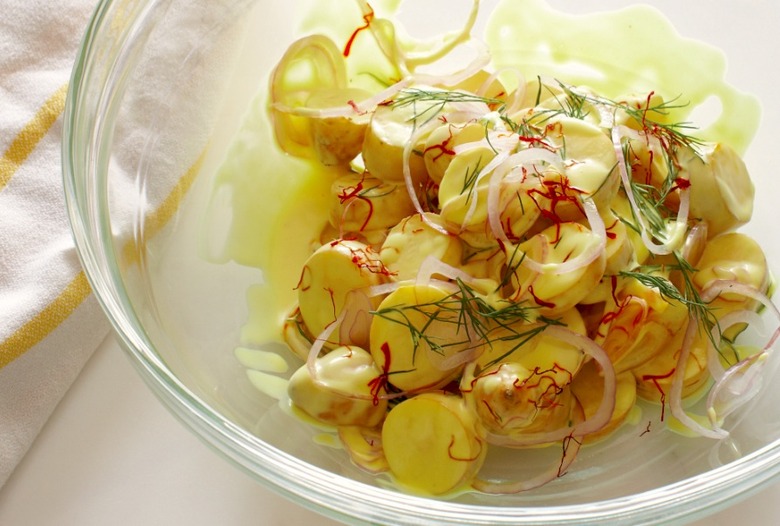 Photo: Victoria Pearson
We may receive a commission on purchases made from links.
If you haven't heard of Lemonade, the fresh-food concept that's taken Los Angeles (and now Dubai) by storm, be sure to hit one up the next time you're on the West Coast. Our recipes editor is pretty obsessed, so you can imagine we jumped on Lemonade's newly released cookbook to share some of their best dishes with you.
Modeled after the French mayonnaise mix, this savory Provençal potato dish is welcomed at any picnic.
Fingerling Potato Salad With Dill And Lemon-Saffron Vinaigrette Recipe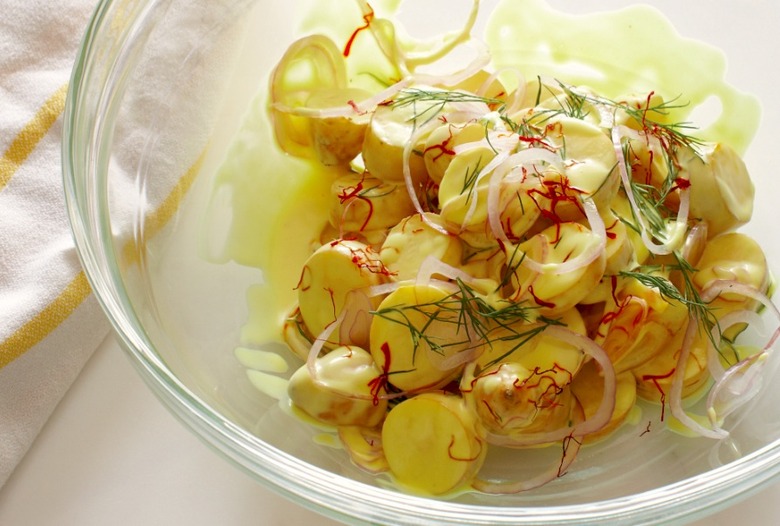 Ingredients
2 pounds (about 24) fingerling potatoes
1/4 cup olive oil
coarse salt and freshly ground black pepper
1/2 cup Lemon-Saffron Vinaigrette (recipe below)
1/2 cup creme fraiche
2 tablespoons coarsely chopped fresh dill
1 large shallot
large pinch of saffron threads
2 tablespoons hot water
1 large egg yolk
1 teaspoon Dijon mustard
juice of 1 lemon
1/2 teaspoon turmeric
1 teaspoon coarse salt
1/2 teaspoon freshly ground black pepper
3/4 cup extra virgin olive oil
Directions
Preheat the oven to 400 degrees F.
Put the fingerling potatoes on a large baking pan, drizzle with the oil, toss to coat and spread out in a single layer. Season generously with salt and pepper. Roast, shaking the pan from time to time, until they are golden on the outside and tender when pierced with a sharp knife, 25 to 30 minutes.
Set the roasted potatoes aside to cool. The potatoes can easily be prepared in advance, covered, and refrigerated.
Slice the fingerling potatoes cross wise into 1/2-inch thick pieces and put into a mixing bowl. Add the vinaigrette, crème fraîche, dill and shallot.
Toss to evenly combine the ingredients. Season with salt and pepper. Serve room temperature, chilled or warm.
In a small bowl, combine the saffron with hot water. Stir to combine. Allow it to sit for a couple of minutes to bleed out the saffron's yellow color.
In a blender, combine the egg yolk, mustard, lemon, turmeric, saffron (along with the water), salt and pepper. Blend on medium speed for a few seconds, and then reduce the speed to low. With the motor running, slowly add the oil until emulsified. Stir in 1 tablespoon of water or lemon juice to thin out if needed.
Cover and refrigerate until ready to use. Keep any leftover vinaigrette covered in the refrigerator for up to 3 days.
Smashed Truffled Purple Potatoes Recipe
Potato Bacon Cheese Bake Recipe
Rosemary Potatoes With Leek And Chorizo Recipe