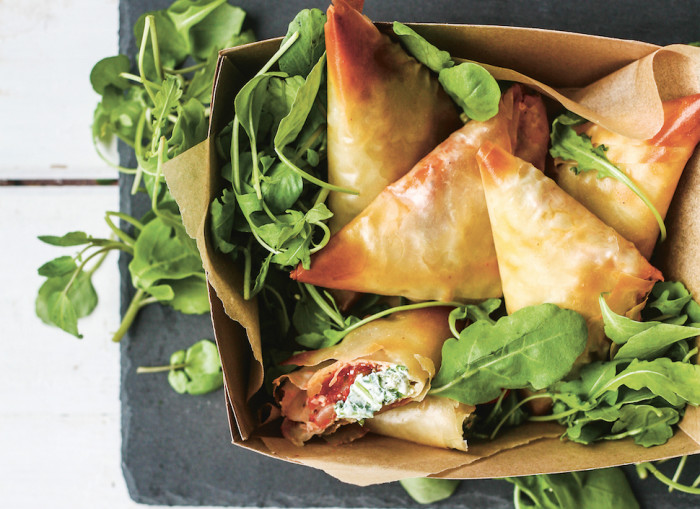 Lunchtime is one of the most important moments of the day. You take a break from work (ideally), sit down and enjoy something delicious. Or do you? The concept of #saddesklunch has taken over workplaces all over the country, and food stylist and author Bec Dickinson won't stand for it any longer. Peruse her collection of fantastic, portable lunches and give your noontime meal a much-needed makeover. These filo ratatouille samosas are a delicious, portable way to eat a hearty dose of veggies.
A friendly tomato twist on the favorite samosa. Once you've mastered the folding method, you'll be making them in your sleep.
Ingredients
Scant 2/3

cup

ricotta

3/4

cup

kale, chopped

Pinc

ground nutmeg

3

ounces

filo pastry sheets

Generous 1/4

cup

unsalted butter, melted

1

cup

tomato or vegetable sauce or ratatouille

Salt and freshly ground black pepper
Directions
For the samosas
Preheat the oven to 350ºF. In a medium bowl, stir together the ricotta, kale, nutmeg and seasoning.

Cut the pastry into 8 long strips, approximately 3 x 18 inches. Brush the strips with the melted butter, fold in half lengthways then brush again with butter.

Place 1 tablespoon of the ricotta mixture and 1 tablespoon tomato or vegetable sauce at the top right hand corner of the pastry sheet, leaving a border at the top.

Fold the top right corner to the left edge of pastry, forming a triangle. Fold the triangle back again to the right side, then back again to the left. Butter and secure the remaining pastry seam, and place the triangle, seam side down, on a lined baking tray. Brush butter on top, and bake in the oven for 15 minutes or until golden brown.

Once cool, place the samosas into airtight lunch boxes and store in the fridge. To serve, reheat in the microwave until warmed through. Alternatively, package the samosas into containers and freeze. Defrost in the fridge overnight and reheat in the microwave until warmed through.