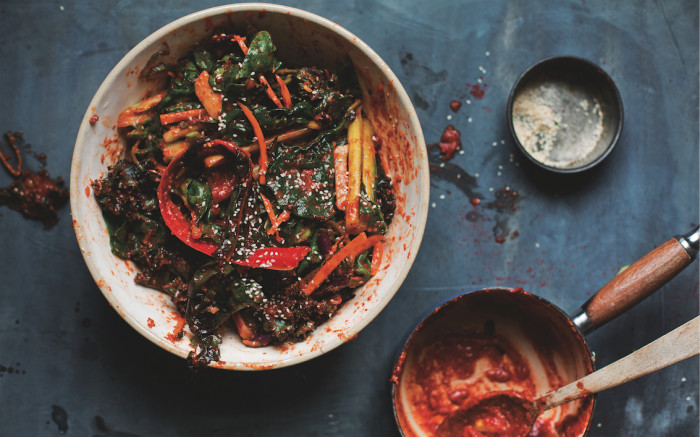 Celebrate, elevate and masticate those vegetables! Making food at home, keeping ingredients local and eating in season all helps reduce the carbon footprint of the food we eat, one of many lessons to learn in eco-chef Tom Hunt's new book, The Natural Cook. Fighting food waste and hunger is the name of Hunt's game, so if you're on his team, pick up a copy and prepare to redefine DIY. 
Homemade kimchi is wonderful, with the added bonus of containing probiotics from the fermentation process (it won't contain these if you don't let it ferment), so it is good for gut flora. It is full of good bacteria that help keep your immune system healthy. The Koreans commonly use cabbage to make kimchi, so feel free to substitute that if you prefer.
Storage: Keep the kimchi in a sealed, non-metallic container in the refrigerator and eat within three weeks. The raw kale is best eaten immediately.
Ingredients
1

quantity

raw kale with sesame seeds and honey (recipe below)

4

tablespoons

rice flour, or spelt or all-purpose flour will do

8

garlic cloves

1

onion, roughly chopped

3 1/2

tablespoons

fish sauce

4

tablespoons

Korean chili powder, or 2 tablespoons cayenne pepper

1

small kohlrabi (about 8 3/4 ounces), peeled and cut into 3/4-inch matchsticks

1

carrot, cut into 3/4-inch matchsticks

1

leek, thinly sliced

sesame seeds, to serve (optional)
Raw kale with sesame seeds and honey
14

ounces

kale

juice of 1/2 lemon

1

tablespoon

raw local honey

3/4- to 1-inch piece of ginger root

2

tablespoons

sesame seeds

Extra-virgin olive oil (optional)
Directions
For the kale
Pull the kale leaves off the thick stalks. Finely chop the stalks and roughly chop the leaves, then wash both. Drain well, then put in a bowl with 1 teaspoon salt, the lemon juice and honey. Massage the dressing into the leaves for 2 to 3 minutes, bruising them so they soak up the juices. Leave for 30 minutes, then pour off the excess liquid. Finely chop the ginger and add it with the sesame seeds. Mix and dress with extra-virgin olive oil, if you like.
For the kimchi
Bring 1 2/3 cups water to a gentle simmer with the rice flour. Keep stirring for a few minutes until it thickens and starts to bubble. Simmer another 1 or 2 minutes until it becomes like an opaque oatmeal.

Blend the garlic, onion, and fish sauce to a puree. Transfer to a bowl, add the flour mixture and chili powder, and mix. Then add the kohlrabi, carrot, and leek, and finally the raw kale with sesame seeds and honey. Mix well.

Put into a sterilized nonmetallic tub, such as a Tupperware box, and press down to pack it in. Put the lid on. Eat it fresh with sesame seeds sprinkled on top, or leave it at cool room temperature 2 to 3 days.

After 2 days, check if you can see any tiny bubbles; they will prove it is fermenting. If not, leave it out of the refrigerator a little longer, until the fermentation process starts.