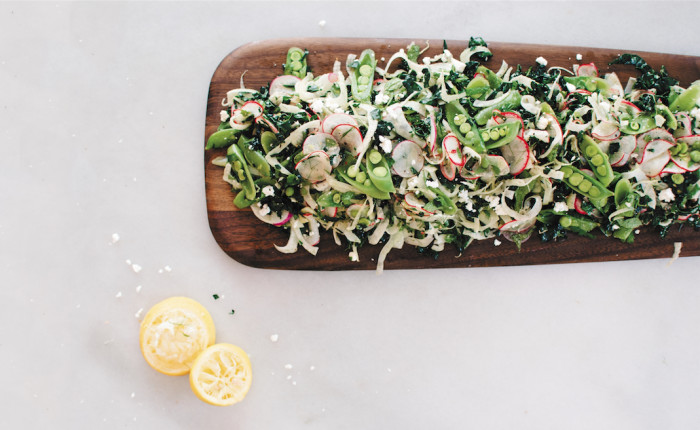 Based on the much-loved blog Kale and Caramel, recipe developer Lily Diamond's new cookbook is a collection of the recipes that made her a favorite among home cooks, DIY fans and plant-eaters everywhere. This fennel, radish and kale salad is so easy and flavorful you can make it a couple of nights a week and never get tired. 
I receive one twinkly-eyed question nearly without fail whenever I share the name of my website: Do you eat kale and caramel together? I'm left to confess that not only do I never combine the two, I've never even wanted to try. The name for the blog came to me one night, mid-dishwashing, as my friend and mentor Rebecca was urging me to create a digital home for my food and writing. But what would I call it? I lamented. I summoned to mind the two foods I could think of that I loved most: Kale. And caramel. And thus the blog was born. At the risk of sounding too heady, it was more a concept than a suggestion for a new flavor combination.
In the hours after I'd logged on to Tumblr and registered kaleandcaramel.tumblr.com as legitimate online real estate, I realized that the vibrant health of kale and the sumptuous, playful deliciousness of caramel were two tenets of how I lived my life. Many a kale salad later, Kale & Caramel had become my full-time job, my baby, my exotically named sanctuary on the Internet.
Which brings us to this kale salad, a paean to all things spring, to the powerful fusion of fresh vegetables and herbs and lemon and feta, to the brightness of unadulterated flavors in symphony with each other. There is no kitchen wizardry here, simply a sweet union of diverse textures shot through with the tenderness of olive oil-massaged kale. Yes, massaged. It's kale (and caramel) all grown up.
Ingredients
8

large leaves

dinosaur (lacinato) kale

1

tablespoon

extra-virgin olive oil

2

cups

sugar snap peas, washed and ends trimmed

3

cups

very thinly sliced or shaved fennel bulb (about 1 medium-large), fronds reserved

5 to 6

radishes, very thinly sliced or shaved, about 1 cup

1/3

cup

loosely packed fresh flat-leaf parsley leaves

1/3

cup

loosely packed fresh mint leaves

1 to 2

tablespoons

fresh lemon juice, or to taste

A few

pinches

flaky sea salt, or to taste

1/3

cup

crumbled feta cheese (about 1 3/4 ounces; I prefer the feta sold in brine)

freshly cracked black pepper, to taste
Directions
For the salad
Remove the stems from the kale and chop the leaves into thin strips. Place the strips of kale in a large bowl and massage with the oil, about 30 seconds, until the leaves grow deep green, reduce in volume, and take on a mellow sheen.

Slice each sugar snap pea in half diagonally across its midsection to reveal some of the peas. Add the sliced peas, fennel, and radishes to the bowl with the massaged kale.

On a cutting board, give the parsley, mint leaves, and the reserved fennel fronds a coarse chop. Add to the bowl of kale and veggies. Add 1 tablespoon of the lemon juice and the salt, and toss vigorously to combine. Add the feta and toss gently to integrate. Taste and adjust the salt and lemon juice as desired. Finish with freshly cracked pepper, as desired.

Serve immediately. The salad will keep in an airtight container in the fridge for up to 3 days.