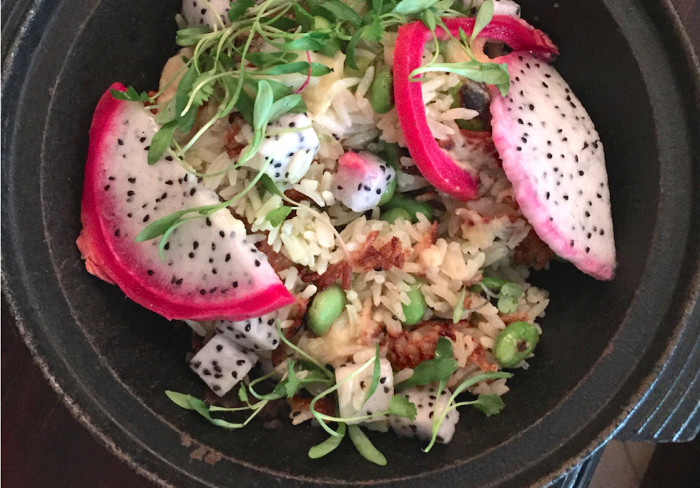 Daphne Cheng, executive chef and produce pioneer at New York City vegan haven Mother of Pearl, can cook a mean plate of veggies. Think dishes like green mango poke with tomato, jicama, crispy rice and macadamia, and coconut rolls with coconut miso butter and black lava salt. Then there's our personal favorite, this rum-spiked fried rice with dragon fruit, edamame, orange, ginger and scallions. It's so packed with flavor, you won't have time to wonder where the pork went while you're shoveling it (politely, of course) into your mouth.

"Fried rice was the equivalent of a peanut butter and jelly sandwich in my family, a super-quick fix for those moments when hunger strikes and you want instant gratification," says Cheng. "Hawaiian cuisine draws from Chinese cuisine, but I wanted to create a dish with more Hawaiian flavor, so I added rum and tropical fruits, including fresh citrus, pineapple and dragon fruit. The end result is full of flavor and fun textures."

Looking for a tip? "Don't be afraid to leave the rice alone while cooking," adds the chef. "It's tempting to be constantly stirring, but it's only when you leave it standing still that the crust has the chance to develop and become crisp."
Ingredients
Rum rice
2

cups

jasmine rice

1 1/2

cups

water

1/2

cup

dark rum

1

teaspoon

salt

2

tablespoons

white soy sauce (regular is fine, too)
Orange edamame
1

pound

shelled edamame

1

cup

fresh squeezed orange juice

1

tablespoon

olive oil

1/2

tablespoon

salt

1

teaspoon

black pepper

2

teaspoons

orange zest
Pineapple rum sauce
1/2

cup

rum

2

cups

pineapple, small diced

1

tablespoon

olive oil

1

teaspoon

salt
Garnish
dragon fruit

Thinly sliced fresh ginger

chopped scallions
Directions
For the rice
Combine rice with water, salt, rum and soy sauce in a rice cooker and cook according to directions. To cook over stovetop, combine in a pot and cover. Bring to boil over high heat, then reduce to simmer for 15 minutes. Remove from heat and let sit covered for an additional 10 minutes.
For the edamame
Mix all ingredients and let marinate overnight.
For the rum sauce
Heat olive oil in sauté pan over high heat. Add pineapple and let cook undisturbed 3-4 minutes until caramelized.

Add rum and cook until reduced.
For the fried rice
Mix rice with edamame. Heat 2 tablespoons canola oil in sauté pan over high heat. Add rice and let cook undisturbed for 4-5 minutes until a crust has formed on the bottom and the rice is fully heated. Drizzle with pineapple rum sauce. Season with additional salt and pepper to taste.

Garnish with a dragon fruit by slicing it into 1/2-inch-thick round slices and diced pieces for color.