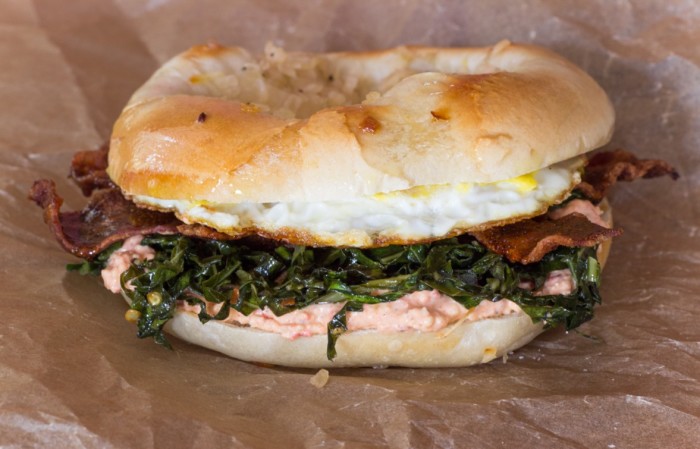 The bialy, in all of its onion-y glory, might be the most underrated treat from a bakery out there. Not quite a bagel and not exactly a roll, the bialy is the perfect foil for a Southern-inspired breakfast sandwich that we think could be part of your regular morning routine.
Ingredients
2

onion bialy, cut in half and toasted
Collards
1

tablespoon

olive oil

1/2

bunch

collard greens, bottom and thick stems removed, leaves sliced crosswise into thin pieces

1

tablespoon

apple cider vinegar

crushed red pepper flakes, to taste

kosher salt, to taste

water, as needed
Bacon
4

slices

bacon

2

tablespoons

Sorghum (can substitute molasses)
Pimento cheese
1/2

pound

shard white cheddar cheese, coarsely grated with a box grater

1

red bell pepper, roasted, seeded and peeled

1/3

cup

mayonnaise, plain yogurt, sour cream or Labne

1

teaspoon

smoked paprika

1/4

teaspoon

cayenne pepper

kosher salt, to taste
Directions
For the collards:
Heat a medium size saucepan over medium heat and add the olive oil.
Add the slices of collard greens and season with a pinch of salt. Stir with a spoon and add the vinegar and red pepper flakes, to taste.
Cook until the collards have just wilted, adding water as needed if the pan is starting to dry out, about 5-8 minutes total.
Can be made one day ahead, re-warm gently in a small skillet until warmed through.
For the bacon:
Pre-heat the oven to 350 degrees F. Place a wire rack over a baking sheet and spray the rack with non-stick spray.
Lay the bacon slices on the rack and bake until the bacon is crispy, 10-15 minutes.
Brush the bacon with the sorghum and turn off the heat. Allow the bacon to sit in the oven until ready to assemble.
For the pimento cheese:
In the bowl of a food processor, pulse the cheese, red pepper, mayonnaise, smoked paprika, cayenne and salt until it forms one cohesive spread. Adjust seasoning with salt and cayenne, if desired.
Can be made at least two days ahead of time, extras can be wrapped in an airtight container and will last for a week in the refrigerator.
For the eggs:
Heat a medium non-stick skillet over medium heat. Add the oil then carefully crack the eggs into the skillet.
Season with a pinch of salt and the hot sauce. Cook for about a minute, then cover the skillet with a lid.
Turn off the heat and allow the eggs to sit in the skillet for a minute. Remove from the heat.
For assembly:
Spread some pimento cheese onto each half of bialy, then add the collards, bacon and top with a fried egg. Eat immediately while warm.
Still not sure what a bialy is? Read Everything You Need To Know About The Bialy (Including A Recipe)
Try out these brunch recipes on Food Republic: