Fava Bean Salad With Pickled Ramps And Goat Cheese Recipe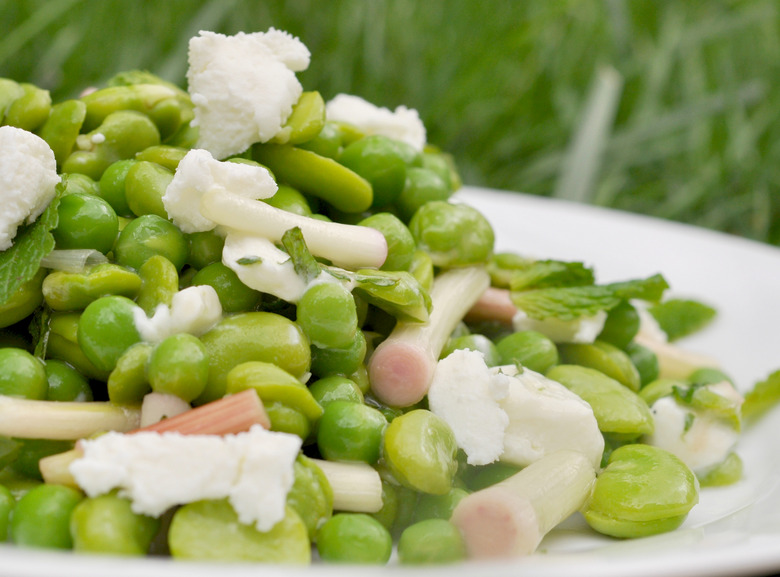 Take advantage of ramps and fava beans season with this salad. (Photo: Francoise Villeneuve.
Ramps have a pretty short season, but when they're here come spring, they're on every restaurant menu. Its leaves are versatile, adding a garlicky heat to pesto, vinaigrettes and other sauces. They can also be wilted in a sauté pan with other seasonal goodies like morels, which are also out around about now. The ramp's bulb is even more pungent than the leaves. Even though they lack the leaves' gorgeous emerald green color, their texture makes for a fabulous pickle.
In this seasonal salad, they add a slightly spicy, onion-y kick to chilled spring favas and peas, seasoned with goat cheese and lemon juice.
Fava Bean Salad With Pickled Ramps And Goat Cheese Recipe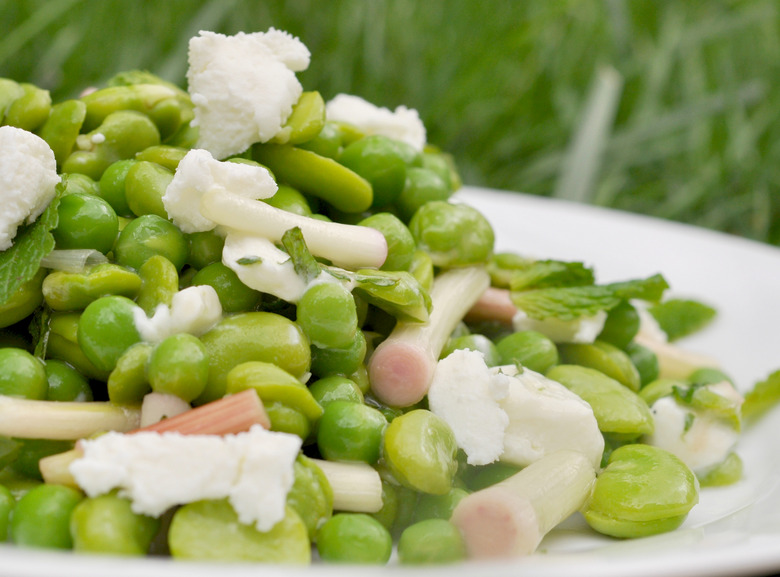 Ingredients
1 bunch ramps
1 cup rice vinegar or white vinegar
1 cup water
1 teaspoon kosher salt
2 tablespoons sugar
2 1/2 cups fresh or frozen fava beans
1 cup fresh peas
2 ounces semi-soft goat's cheese
1/2 bunch mint
salt
1/4 cup good-quality olive oil
juice of 1 lemon
Directions
Soak the ramp bulbs in several changes of cold water until there are no grains of sand at the bottom of the bowl.
Drain and leave to dry on a clean dish towel.
Warm the vinegar, water, salt and sugar in a small saucepan, stirring until the salt and sugar have dissolved.
Remove from the heat and cool.
Chill, covered, in the refrigerator in an airtight pint container.
Once the pickling liquid is completely cool, add the ramp bulbs and cover.
Allow to pickle for at least 6 hours. These will keep for up to 2 weeks in the refrigerator.
Bring a large pot of salted water to a boil. Have a large bowl of ice water and a large slotted spoon ready.
When the water is boiling, blanch the fava beans until they are firm but cooked, then fish them out and shock them in the ice water.
When they are cool, strain and remove the outer thick skin that holds the 2 lobes of each fava bean together.
Now blanch and shock the peas, then strain them.
Combine in a large bowl with the fava beans, cheese and mint.
Season with salt, olive oil and lemon juice. Toss and serve cold.
Fava Beans With Bacon Recipe
Fava Bean Scafata Recipe
Fava Bean Falafel Recipe