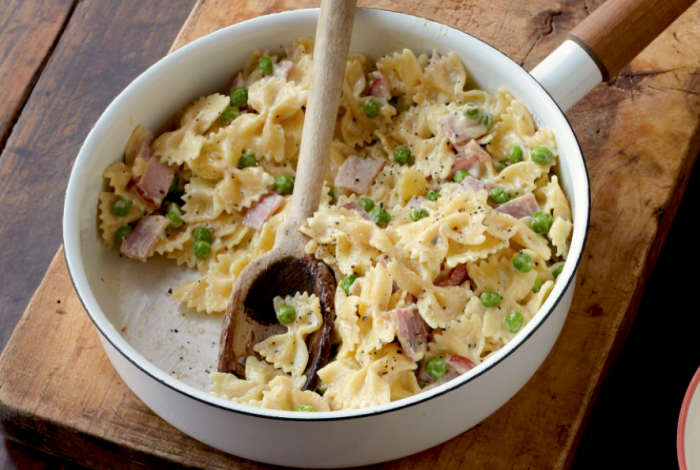 Now here's a cookbook we're on board with. Keepers, penned by two accomplished home cooks and former food editors, is full of recipes that even the most kitchen-challenged can pull off any old night of the week. Sit down, get comfy and let the pros take you on a tour of tonight's super-easy dinner recipe. Make this ham-spiked creamy blue cheese pasta tonight. You know you want to. 
If you've had a rough week, something a little decadent for dinner can be a mood-changer. But while this dish is unquestionably luxurious, it is actually one of the simplest pasta preparations we know. If you're not a blue cheese person, rest assured the flavor of the gorgonzola mellows once it's combined with the cream. And if you're serving vegetarians, you can offer the ham on the side for anyone who wants it.
Ingredients
1

pound

farfalle or orecchiette

1

cup

heavy cream

1/4

pound

gorgonzola cheese

1

cup

frozen green peas, thawed

1/4

pound

sliced ham (baked French or Black Forest ham is nice)

coarsely ground black pepper
Directions
Bring a large pot of water to a boil over high heat. Season the water generously with salt; it should taste like seawater. When it returns to a boil, add the pasta, quickly stir to separate the noodles, then cover the pot. When the water returns to a boil again, uncover and boil the pasta until al dente, stirring occasionally.
Meanwhile, in a large high-sided sauté pan, heat the cream and cheese over medium heat. Simmer, stirring often and breaking up the cheese, until the mixture is smooth and slightly thickened, about 3 minutes.
Add the peas and cook until warmed through, about 1 minute. Off the heat, shred the ham into the pan and stir.
Check the seasonings (the sauce should be a little salty, but since the cheese and ham are salty, extra salt may not be needed) and set aside.
When the pasta is ready, drain it, reserving about 1 cup of the cooking water, then pour the noodles on top of the sauce. Toss to combine over medium heat. If the pasta looks dry, add some of the cooking water. Check the seasonings and serve topped with pepper.
Tip: When cooking tubular or short pasta shapes like penne or farfalle, we often remove it from the pot with a type of handheld strainer called a spider. It works like a charm and saves us from having to wash a crevice-y colander or trying to fit the bulky vessel in the dishwasher.
More pasta recipes on Food Republic: