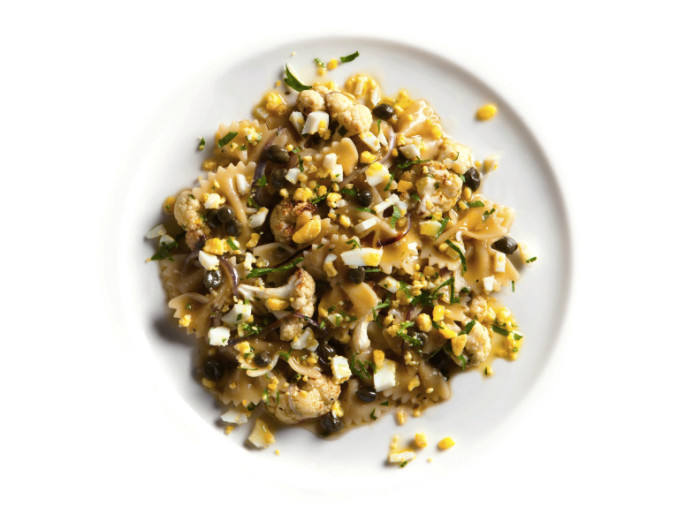 Sometimes we get a cookbook that changes the game. We like cooking our way through as many of the season's great books as we can, but now that the chefs at the Culinary Institute of America have provided us with the ultimate guide to simple yet innovative pasta recipes (plus everything you needed to know about polenta and crespelle), game on! First up, an anchovy-spiked farfalle with roasted cauliflower. Bet you've never had that before.
The chefs' advice?
"A pinch of fresh marjoram or lemon zest combines well with the other flavors in the dish. We like coarsely chopped eggs as a garnish for their great flavor and color."
Related: How to Make Hard-Boiled Eggs
Ingredients
For the cauliflower
1

head

cauliflower

1

medium

red onion, cut into 1/4-inch slices

2

teaspoons

capers, rinsed and coarsely chopped

3

tablespoons

extra-virgin olive oil

kosher salt and freshly ground pepper, to taste
For the pasta
1

pound

dried farfalle

5

tablespoons

extra-virgin olive oil

6

oil-packed

anchovy fillets

3

cloves

garlic, chopped

1/2

cup

flat-leaf parsley, chopped

1/2

cup

grated Pecorino Romano or Parmigiano-Reggiano

3

hard-boiled eggs, coarsely chopped
Directions
Preheat the oven to 400°F. Trim away the leaves and cut out the core of the cauliflower with a paring knife. Cut and break the cauliflower into bite-size florets. Rinse thoroughly and drain.
Combine the onion and capers with the 3 tablespoons oil in a baking pan. Add the cauliflower and toss to coat evenly. Season generously with salt and pepper, and spread in an even layer. Roast until tender and lightly browned, about 20 minutes. This can be done up to 1 day in advance.
Bring a large pot of salted water to a boil over high heat. Add the farfalle and stir to submerge and separate the pieces. Cook, uncovered, until the pasta is just tender (al dente), about 8 minutes (check the cooking time for your pasta).
While the pasta is cooking, heat the 5 tablespoons oil in a large sauté pan over medium-high heat. Add the anchovies, stirring and smashing them in the hot oil, until they are almost melted. Add the garlic and cook, stirring constantly, until aromatic but still translucent, about 1 minute. Add the roasted cauliflower mixture and half of the parsley and toss until the cauliflower is well-coated and heated through, 2 to 3 minutes.
Drain the pasta immediately in a colander. Shake well to remove any water clinging to the pasta. Add the drained pasta to the cauliflower mixture. Add the remaining parsley and the cheese. Toss until just combined and serve at once in a heated bowl, topped with the eggs, hot or at room temperature.
More innovative pasta dishes on Food Republic: