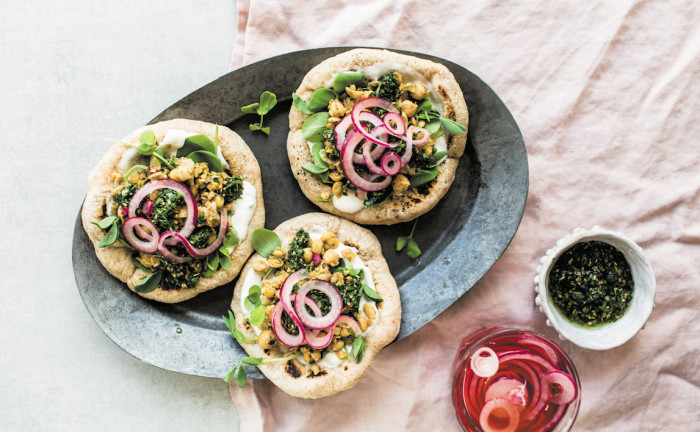 Ready to kick your home cooking game into high gear? Join blogger and Instagram sensation Izy Hossack and rejuvenate your go-to dishes into impressive, photogenic masterpieces. This falafel smash will smash your idea of what a traditional falafel can be.
This falafel smash comes together quickly using mainly pantry-friendly ingredients and makes a super-satisfying lunch or, when served with a fried egg and salad, a perfect dinner. I like to make my own bread, so if you fancy doing the same, make your own pita breads or flatbreads using the recipes toward the back of this book.
Ingredients
1 1/2

cups

cooked chickpeas, drained and rinsed

1/4

teaspoon

salt

1

teaspoon

ground cumin

1

teaspoon

ground coriander

1/4

teaspoon

crushed red pepper

juice of 1/2 lemon

1

tablespoon

olive oil

1/4

cup

plain yogurt or unsweetened soy yogurt

A few

handfuls

pea shoots or arugula

A few

slices

pickled red onion or thinly sliced raw red onion

1/2

recipe

pita breads or flatbreads or 4 to 6 store-bought pita breads
Cilantro Sauce
1

garlic clove, crushed or minced

2

large handfuls

cilantro, finely chopped (including stems)

1/4

cup

olive oil (I like to use extra virgin, here)

2

tablespoons

sesame seeds, toasted

Generous

pinch

salt
Directions
For the falafel
In a bowl, lightly mash the chick peas with the back of a fork, or pulse them briefly in a food processor or countertop blender if you have one. Stir in the salt, ground cumin, ground coriander, crushed red pepper, lemon juice, and olive oil.

In a small bowl, stir together all the ingredients for the cilantro sauce.

Layer up the yogurt, the pea shoots or arugula, chick pea mixture, cilantro sauce, and pickled or raw red onion on the breads and serve.