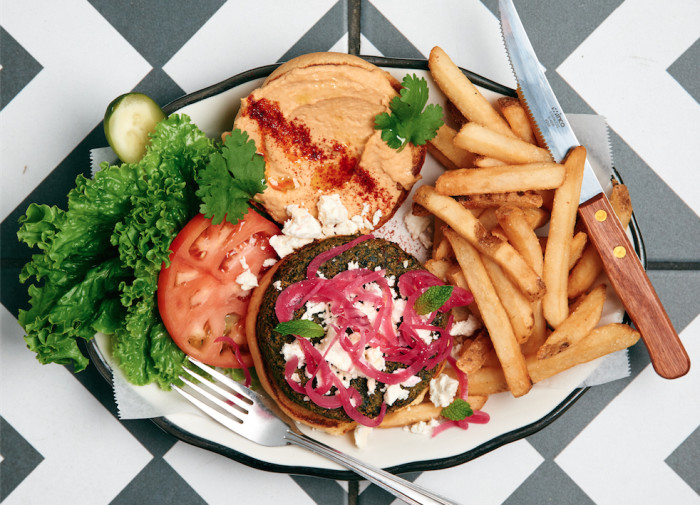 Here's an awesome falafel burger recipe via Joe Isidori, chef-owner of NYC burger haven Black Tap. He's also the author of a new cookbook packed with its recipes. The burgers are delicious, inventive and served "deluxe," and the milkshakes are the skyscrapers of the dessert game, loaded with every other dessert imaginable. But back to this falafel burger recipe.
I'll be honest: I find most veggie burgers bland and mushy, so I struggled when I was considering a vegetarian offering for Black Tap. This falafel, which is based on a recipe I developed with Michael Schwartz in Miami, was the solution. It's more of a Parisian- or Israeli-style falafel that reverses the ratio of herbs to chickpeas you find in many recipes. All the parsley, cilantro, and mint create a vibrant, herbaceous flavor that is complemented by homemade tahini, hummus, pickled onions, and feta cheese. We make these fresh every morning, flash-fry them in burger form, and sell out of them every day. At home, you'll probably find it easier to pan-fry them in a skillet rather than deep-frying them.
Best Beer: Angry Orchard Apple Cider (great if you want to stay gluten-free)
Reprinted with permission from Craft Burgers and Crazy Shakes From Black Tap
Ingredients
1/2

pound

dried chickpeas

1/2

small red onion, quartered

3/4

cup

lightly packed fresh flat-leaf parsley leaves

3/4

cup

lightly packed fresh cilantro leaves

1/2

cup

fresh mint leaves

1 1/2

teaspoons

ground cumin

1 1/2

teaspoons

baking powder

1 1/2

teaspoons

kosher salt

1

cup

canola or vegetable oil, for frying

4

4-inch potato buns

1/2

cup

crumbled feta cheese

1/4

cup

pickled onions

1

cup

hummus

Lettuce, tomato slices, pickle spears, for serving

3/4

cup

tahini sauce
Directions
For the burger
Place the chickpeas in a large bowl and add room-temperature water to cover them by 2 inches. Set the chickpeas aside to soak overnight.

The next day, drain the chickpeas and place them in a food processor. Add the onion, parsley, cilantro, mint, cumin, baking powder, and salt and pulse three or four times to break up the ingredients. Process until the mixture is well combined and holds together when squeezed in your palm, 45 seconds to 1 minute.

Set a 4- to 4½-inch metal ring (or make a "collar" out of aluminum foil by folding a long piece into a 1-inch strip and taping it together to make a 4- to 4½-inch circle) on a plastic wrap–lined cutting board. Place one quarter of the falafel mixture in the ring, patting it down until it is even and about ¾ inch thick. Carefully remove the ring and repeat with the remaining falafel mixture to make 4 patties.

Pour the oil into a large, deep skillet and heat it over high heat for 1½ minutes. Working in batches, add the falafel patties to the pan (avoid overcrowding the pan) and cook until deeply browned and crispy on both sides, 8 to 10 minutes, turning the patties midway through the cooking time. Transfer the patties to a paper towel–lined plate to drain.

Heat a cast-iron flat-top griddle or large cast-iron skillet over medium-high heat for 2 minutes. Open the buns and place the bottom halves cut-side down in the hot pan and cook until browned and toasted, 1 to 2 minutes. Turn the buns over to toast the other side, about 1 minute longer. Place each bun half on a plate, then repeat with the bun tops.

Place each falafel patty on a bun bottom half. Top with feta cheese and pickled onions. Spread each bun top with ¼ cup of the hummus and set them on top of the burgers. Serve with lettuce, a tomato slice, and a pickle spear, with the tahini sauce on the side.