Ethiopian Chicken Doro Wat Recipe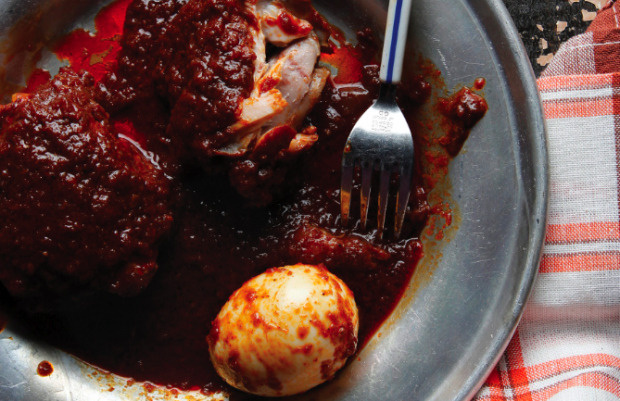 We may receive a commission on purchases made from links.
A great hot sauce cookbook illustrates that different sauces are suited for different uses. James Beard Award-winning cookbook author and restaurant critic Robb Walsh's The Hot Sauce Cookbook doesn't disappoint — there are recipes for Frank's Red Hot, sriracha, Tabasco...hot Ethiopian berbere paste, you name it. And speaking of the latter, there is no better time to learn this classic Ethiopian comfort food. 
Known as the Ethiopian national dish, doro wat is the most popular traditional food in that country. It is often eaten from a communal bowl with each diner using injera bread to scoop out a portion. Find earthy, spicy berbere paste at Middle Eastern grocery stores or online.
Ethiopian Chicken Doro Wat Recipe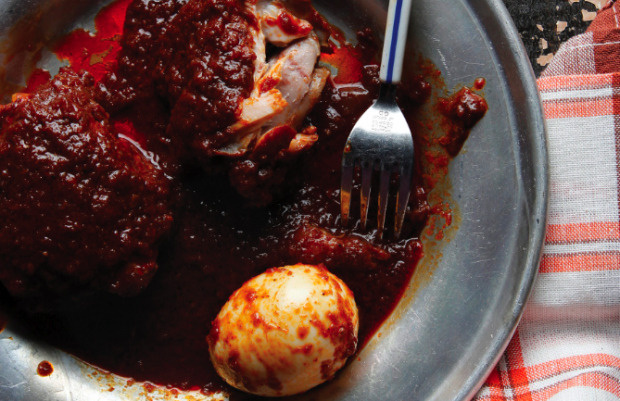 Ingredients
1/4 cup lemon juice
2 tablespoons salt
4 bone-in chicken thighs
3 cups chopped onions
3 garlic cloves
1 tablespoon peeled
water (optional)
1/4 cup butter
2 tablespoons paprika
1 cup berbere paste
3/4 cup chicken stock
1/4 cup red wine
1 teaspoon cayenne pepper
freshly ground black pepper
4 hard-boiled eggs
injera bread or hot cooked rice
Directions
Combine the lemon juice and salt in a large, nonreactive mixing bowl and stir until slightly dissolved. Add the chicken thighs, one at a time, dipping both sides of each piece in the marinade to coat. Cover and allow to marinate in the refrigerator for about 30 minutes.
While the chicken is marinating, purée the onions, garlic and ginger in a food processor or blender. Add a little water, if necessary, to get the blades moving.
Heat the butter in a Dutch oven over medium heat and stir in the paprika to color the oil. Stir in the berbere paste and cook for 3 minutes, until heated through. Add the onion mixture 
and sauté until most of the moisture evaporates and the mixture reduces, about 15 minutes.
Pour in the stock and wine, add cayenne to taste and season with salt and pepper. Remove the chicken from the lemon juice and discard the marinade. Add the chicken to the pot and cover with sauce. Bring the sauce to a boil, reduce the heat to low, cover and simmer for 45 minutes, flipping the chicken halfway through. Add water, if necessary, to maintain the liquid level.
Add the whole hard-boiled eggs and continue 
to cook until the chicken is very tender, 10 to 
15 minutes. Adjust seasoning and serve hot 
with injera bread or rice.
Moroccan Elk Stew Recipe
Portuguese Fish Stew Recipe
Beef And Guinness Stew Recipe