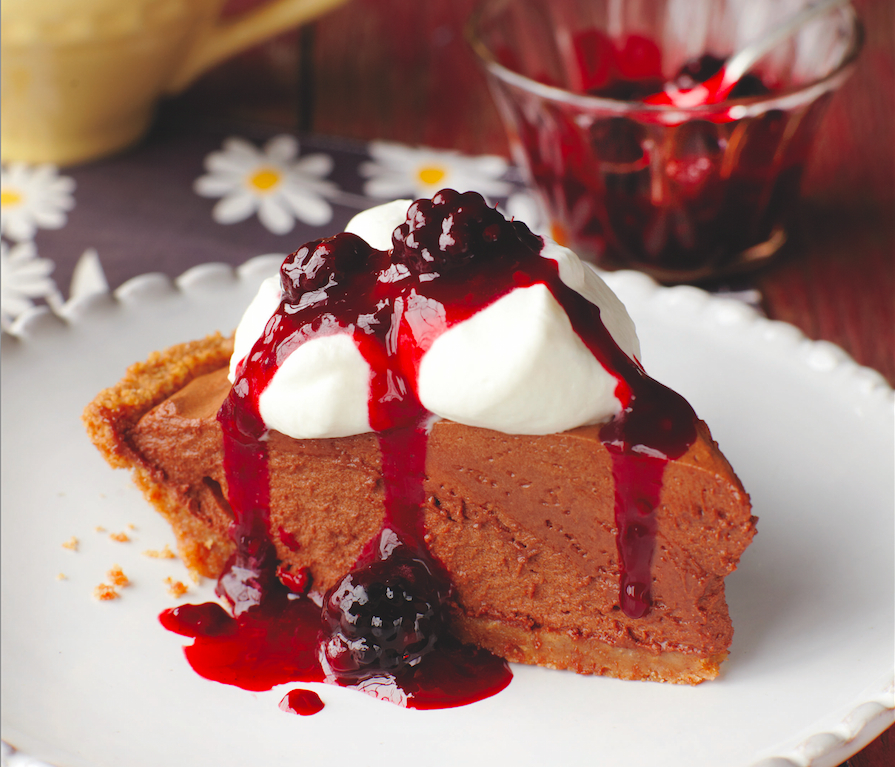 If you're going to buy a book about pie, make it Teeny Lamothe's Tour Of Pie. The noted baker and expert has been featured on some of our favorite blogs and websites and released her first cookbook this spring. Whether it's a crumble, buckle, brown Betty or just a classic, friendly pie you're looking to bake, Teeny's got about a ton of options for you. First up, a creamy espresso-infused, blackberry-topped creation we can't wait to make. 
When I was little I would beg my mom to put a few spoonfuls of her coffee into my hot chocolate so I could be a lady and drink a "mocha." This pie reminds me of that, the way the light and fluffy chocolate is piled high and topped with whipped cream with just a hint of espresso to surprise your taste buds. (Since I don't have an espresso maker, I go to my local coffee shop and ask for a shot of espresso to go.) This pie is similar to the more traditional French silk (and also requires a stand mixer or handheld electric mixer to make), but here the espresso and blackberries lend some unexpected twists. In a manner similar to layering strawberries into the bottom of a traditional French silk pie, I like to spoon a sweet blackberry compote over the slices of this one when serving. It reminds me of my time in Seattle, where I was surrounded by coffee and blackberries at every turn.
Ingredients
3/4

cup

unsalted butter, at room temperature

1

cup

granulated sugar

3

ounces

unsweetened chocolate, melted and cooled

3

tablespoons

freshly brewed espresso, at room temperature

1/2

teaspoon

pure vanilla extract

3

pasteurized large eggs, see note

1

9-inch graham cracker crust, pre-baked

homemade whipped cream, for topping

blackberry compote, for serving
Directions
Cream together the butter and sugar in the bowl of a stand mixer fitted with the paddle attachment (or in a large bowl using a handheld electric mixer on medium-high speed) until it is light and fluffy, about 4 minutes.
Scrape down the side of the bowl with a rubber spatula and add the melted chocolate.
Mix on high until the mixture is very fluffy, 5 minutes. While the mixer is still running, add the espresso and vanilla and continue to mix for another minute.
Turn the speed down to medium and add the eggs one at a time, beating for 3 minutes after each addition. After the addition of the third egg, the mixture should be lighter in color and smoother and silkier in texture.
Spoon the filling into the cooled graham cracker crust, smooth the top with a spatula and refrigerate uncovered for at least 4 hours.
Before serving, top with the whipped cream and serve cold with the blackberry compote on top or alongside.
Note: This recipe calls for raw eggs. Unpasteurized eggs may contain harmful bacteria, so please make sure you use pasteurized eggs. They are available at most supermarkets.
Find more silky chocolate dessert recipes on Food Republic: