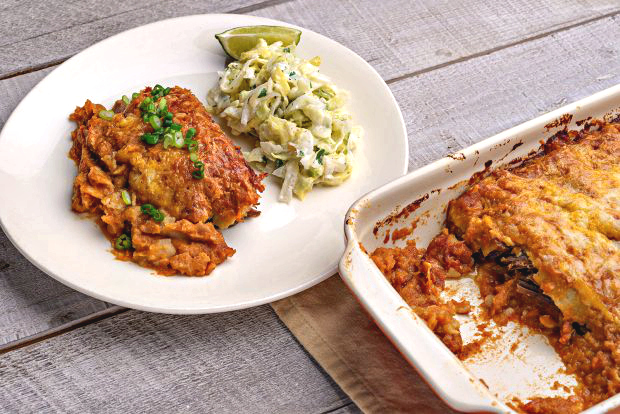 Paul Harrison is a Brooklyn-based recipe developer and professional whiskey fan who penned possibly the greatest recipe for taco meat, ever. We're running his recipes all week long, particularly since this latest batch was inspired by the abundance of Los Angeles–style Mexican food around his alma mater, USC, and shot in our own Test Kitchen. That is some solidly easy tailgating chow. We respect a man with priorities.
I love enchiladas. I think of them as Mexican soul food. There are a lot of ways to do enchiladas; I've had some with huitlacoche, also known as Mexican truffles or corn mushrooms, that were pretty fantastic. But sometimes you don't want a fancy cocktail. Sometimes you want some damn whiskey, neat. And sometimes you just need enchiladas that are the equivalent of that neat whiskey, which is what we have going here (if you want the gin and tonic of enchiladas, go for the verde).
The tomato and jalapeño-based salsa roja pairs well with spicy braised beef, or barbacoa. You may be tempted to make a double batch to freeze. Give in to this temptation.
Ingredients
Barbacoa
6

serrano peppers (you can use less if you don't want it as spicy, as these are fiery)

1

onion

3

cloves

garlic

2

tablespoons

cumin

2

tablespoons

chili powder

1

beer (something pale like Corona or Rolling Rock works best)

1

3-pound

bone-in chuck roast
Sauce
2

pounds

fresh tomatoes, or 1 can tomatoes (28 ounces)

1

sweet onion

1-3

jalapeños (depending on desired spice level)

2

cloves

garlic

1

tablespoon

cumin

2

tablespoons

chili powder

1

cup

chicken stock, for thinning the sauce

Salt and pepper
Enchiladas
corn tortillas

1

pound

queso fresco, crumbled; or 1 pound jack/cheddar combo, grated
Directions
Preheat your oven to 300˚F. Roughly chop the peppers, onion and garlic, and throw them into the bottom of a Dutch oven. Season the meat well with salt and pepper, set it on top of the vegetables and pour in the beer. Cover and cook at 300˚F for four hours, basting occasionally with the pan juices. When it's ready, it should be falling apart. Take it out of the oven, and — important! — let it cool down enough so you can handle it comfortably.
Shred the meat, being sure to pull out any fatty or gristly pieces that are still there. Put the shredded meat back into the liquid it was cooking in and toss to coat. Pull the meat back out and let some of the juice strain out a bit, then set it aside until you're ready to assemble the enchiladas.
Roughly chop the vegetables for the sauce and sauté over medium heat, until soft. If using crushed or puréed canned tomatoes, add that after the other veggies get soft.
Mix in the spices.
Using an immersion blender, blend until it is smooth. If you use a regular blender, keep your hand firmly on the lid, because the sauce is hot and will blow the top off if you don't. If it looks thick, you can add a little water or chicken stock to thin it out enough that it runs easily through a slotted spoon. Season with salt and pepper and refrigerate until ready to use.
To make enchiladas, put a thin layer of sauce on the bottom of a baking pan. One by one, take a tortilla, dip it in sauce to moisten it, then while holding it in your hand like a taco, fill it with the barbacoa and a sprinkle of cheese.
Roll it up, place seam-side down in the pan and repeat until the pan is full. Pour the rest of the sauce evenly over the top, then sprinkle generously with cheese.
Cover with foil and bake at 350˚F for 20 minutes, then take the foil off and put the pan back in the oven until the cheese on top is melted. If you really want to impress someone, serve these with this Iceberg Lettuce Slaw — it's the perfect complement to the enchiladas.
Check out these Mexican food recipes on Food Republic: