Ember-Roasted Salt Potatoes With Scallion Cream Recipe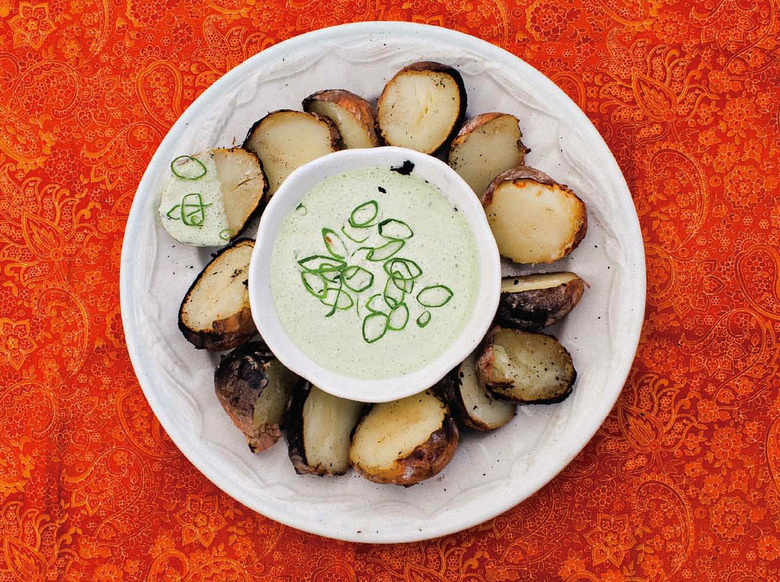 Barton Seaver is Director of the Healthy and Sustainable Food Program at Harvard's School of Public Health, and a damn good cookbook author. His new book, Where There's Smoke, is on our list of spring must-reads. Use those fire pit embers to roast potatoes for a side dish you'll make all season long.
The salt potato is a wonder to behold. Those who think that they have experienced the true essence of earthy starchiness that is the potato but have not tried this method are in for a surprise. The secret is to not be afraid of the salt. A true salt potato is boiled in water salted in a ratio of 1 pound salt for every 4 pounds of potatoes. Yes, that is a lot of salt. It's so much salt that it crystallizes on the skins of the cooked potatoes, making them look like something dug up on a paleontological excavation. But, boy, do they taste great.
In this recipe the salt content is reduced and the potatoes are then further subjected to the withering heat and smoke of an aromatic fire. The result? An addictive melding of salty, crunchy, fluffy, flaky goodness.
Ember-Roasted Salt Potatoes With Scallion Cream Recipe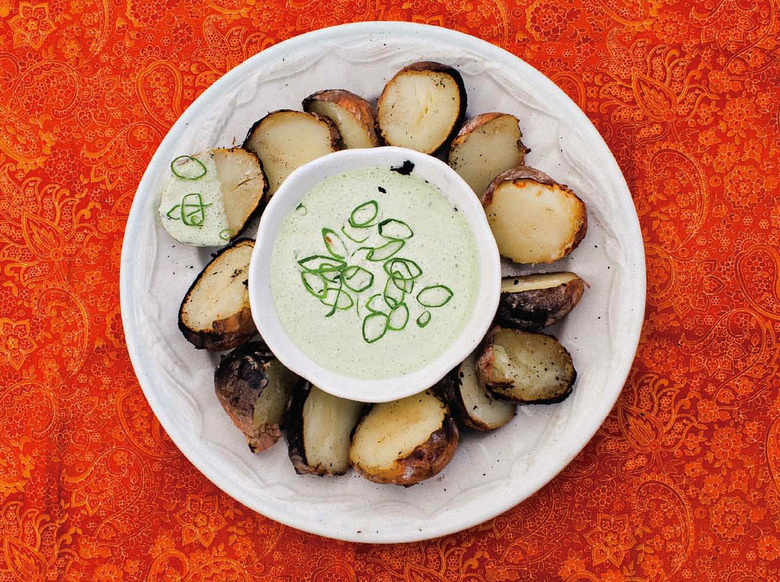 Ingredients
1 1/2 pounds new potatoes
1/4 cup kosher salt
1/2 bunch scallions
1 cup sour cream
Directions
Place the potatoes in a pan just large enough to hold them and provide a little headroom. Cover them with cold water and add the salt. Cook over medium heat until the potatoes are fork tender, 15 to 20 minutes. Drain the potatoes and let them cool slightly.
Set the potatoes in the embers of a dying fire and cover the grill. Cook until the skins are blistered and the potatoes are heated through, about 20 minutes. Remove them from the coals and brush off any ash. Cut them in half and arrange them on a platter.
Combine the scallions and sour cream with a pinch of salt in a food processor. Purée until the mixture is smooth. Check the seasoning and adjust if necessary, but consider the salt content of the potatoes.
Serve the potatoes either warm or at room temperature with the sour cream sauce.
Potato Galettes with Sage
Potato Salad with Horseradish
Fennel, Artichoke and Potato Tagine