Egyptian Koshary Recipe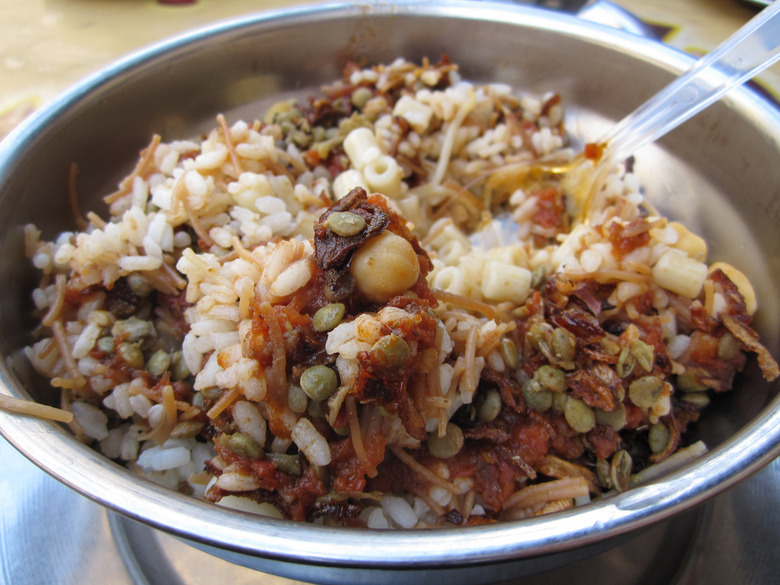 photo: Andrew 鐘 on Flickr
The luxury travel company Abercrombie & Kent brings visitors to exotic destinations around the world. One of the most popular countries for A&K guests is Egypt, which is where this koshary recipe originated.
Koshary is one of the most traditional dishes for any meal in Egypt. It consists of rice, lentils, pasta, and onions, layered and covered in tomato sauce. It's eaten for breakfast, lunch, or dinner. Koshary is a working-class staple in Egypt, sold from street food stalls, dished up in restaurants, and a go-to dish in homes.
The preparation of Koshary on the streets is both a sight and sound experience.The cart or side-street eatery is lined with large containers of each of the dish's ingredients. The Koshary man then proceeds to scoop each ingredient onto a metal bowl and knocks his metal on the side of the plate after each item, making a symphony of Koshary sounds that attracts tourists to each cart. During busy hours, vendors compile a whole Koshary plate in under 5 seconds! With that same ease, you can make your won Koshary at home, once all of the ingredients are cooked, of course.
Egyptian Koshary Recipe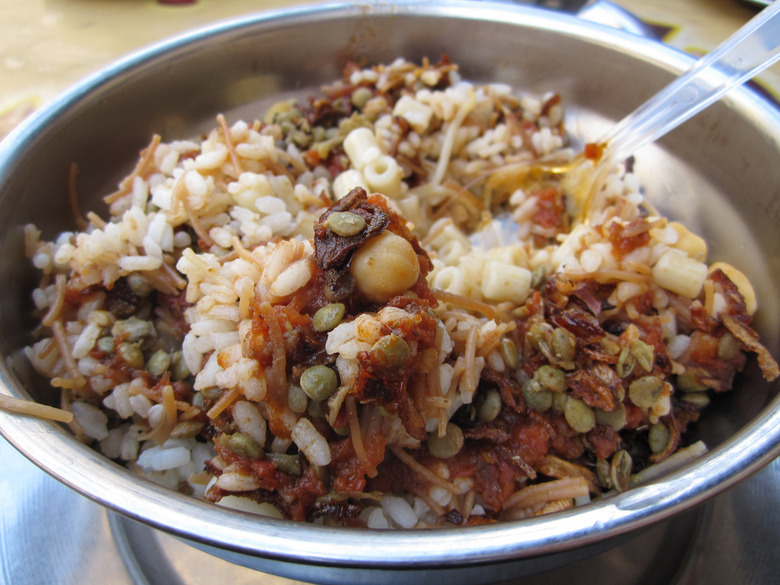 Ingredients
1 tablespoon vegetable oil
2 cups uncooked white rice
3 cups water
1 teaspoon salt
1 packet macaroni (elbow)
1 cup lentils
1/2 teaspoon salt
1 tablespoon vegetable oil
5 onions
2 garlic cloves
3 tablespoons white vinegar
4 tomatoes
1/2 cup tomato paste
1 1/2 teaspoons salt
1 teaspoon black pepper
2 1/2 teaspoons cumin
1/4 teaspoon cayenne pepper
Directions
Heat 1 tablespoon vegetable oil in a saucepan over medium to high heat. Stir in rice for a few minutes until totally coated with oil. Add 3 cups water and 1 teaspoon of salt. Bring to the boil, then reduce heat to low, cover, and simmer for about 25 minutes until the rice is tender and all the liquid has been absorbed.
Cook the macaroni in lightly salted boiling water (about 8-10 minutes) until it is al dente. Strain in a colander and return to pot and keep covered. Set aside.
Soak the lentils in water for about half an hour, then drain and rinse, twice.  Measure two cups of water, add the lentils and bring to a boil. Cover and reduce heat to low. Simmer for about 20 minutes until lentils are tender. Add half a teaspoon of salt.
Put one tablespoon of oil into a large frying pan and heat. Add the onions and cook on medium/high heat for about 10 minutes until the onions are browned. Add garlic and cook for another minute and then drain the mixture on a paper towel.
Take half of the onion mixture, place into a saucepan and add the vinegar, chopped tomatoes, tomato paste, pepper 2 teaspoons of salt, the cumin and the cayenne pepper and bring to a boil. Mixture should have a thick sauce like consistency. If it feels like a paste, add half a cup of boiling water. Reduce heat to medium-low and simmer 15 minutes.
To serve, do so in a layering pattern by placing a serving spoon of rice, topping it with a serving spoon of macaroni, followed by the same amount of lentils. Sprinkle the countenance with some of the browned onions, and then top with tomato sauce.