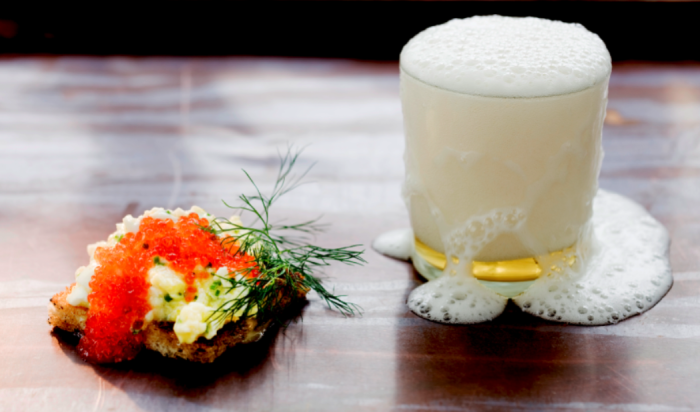 We got our hands on one of the best fish cookbooks we've encountered in recent memory, authored by two of Sweden's best-known chefs. What you'd never be able to tell from the cover is how rock-crazy these guys are — their "pairings" encourage you to listen to the White Stripes, Kiss, Smashing Pumpkins and the Beatles (among others) while you prepare a spectacular fish dish, like this hearty, rustic, very Scandinavian egg-on-egg gem.
Quoth the chefs:
"Saturday morning, 9:15 AM. It doesn't get better than this!"
But we'd happily eat it for lunch or dinner as well.
Ingredients
4

large

slices of bread

12

eggs

2/3

cups

butter

1

bunch

chives, chopped

1

pound

trout roe

Salt and pepper
Directions
Fry the bread in some of the butter.
Boil the eggs for 3 minutes, peel and mash with a fork while still warm.
Add the rest of the butter into the egg mixture and stir the egg mixture in a pan on the stove over low heat.
Add salt and pepper and gently stir in the chives. Place the scrambled eggs on the bread and finish off with a generous amount of trout roe.
Try out these fish dishes on Food Republic: