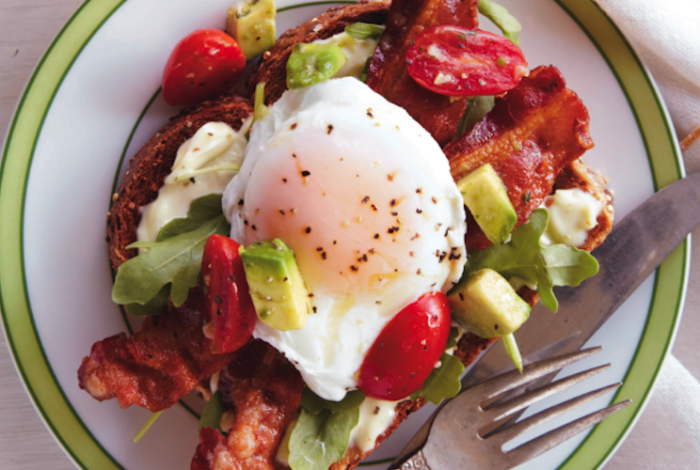 Ah, the Southern life. Whenever we feel the need for ultimate comfort recipes we turn to Southern Living magazine's new Feel Good Food cookbook. This recipe for an Eggs Benedict BLT sure sounds like it'll make us feel good, but let's enjoy it for brunch just to make sure. Remember that time you were trying to choose between the Eggs Benedict and the BLT? Good times.
Reprinted with permission from Southern Living Feel Good Food
Ingredients
1

cup

halved grape tomatoes

1

avocado, diced

1

tablespoon

chopped fresh basil

1

garlic clove, minced

2

tablespoons

extra virgin olive oil

salt and freshly ground pepper, to taste

1

tablespoon

red wine vinegar, divided

6

large eggs

1/4

cup

mayonnaise

6

3/4-inch thick

bakery bread slices, toasted

3

cups

firmly packed arugula

12

thick bacon slices, cooked
Directions
Combine tomatoes and next 5 ingredients and 2 1/2 tsp. red wine vinegar in a small bowl.
Add water to depth of 3 inches in a large saucepan. Bring to a boil; reduce heat, and maintain at a light simmer. Add remaining 1/2 tsp. red wine vinegar. Break eggs, and slip into water, 1 at a time, as close as possible to surface. Simmer 3 to 5 minutes or to desired degree of doneness. Remove with a slotted spoon. Trim edges, if desired.
Spread mayonnaise on 1 side of each bread slice. Layer each with 1/2 cup arugula, 2 bacon slices, and 1 egg. Top with tomato mixture.
Try out these eggs benedict recipes on Food Republic: