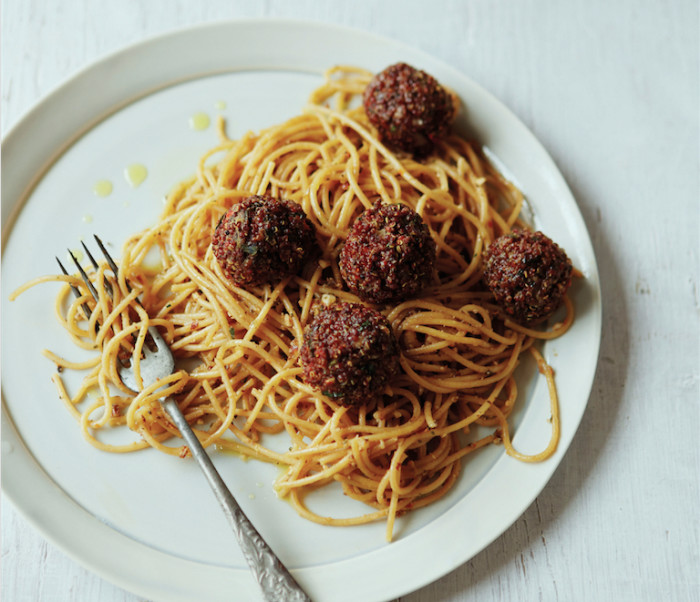 You are the master of your dietary destiny. Pick up a boost from fitness guru and nutritionist Julie Montagu's new book, Superfoods, and enjoy pretty much the whole-est grains there are. Seriously, friends, eat your fiber.
A healthier version of classic spaghetti with meatballs, this eggplant, tomato and almond pasta dish is still packed with protein, but it skips the saturated fat and cholesterol. Eggplants are rich in antioxidants, particularly nasunin, which is predominantly found in the skin of eggplants — so don't peel it off!
Ingredients
2

large eggplants

2

tablespoons

coconut oil, melted

2

cups

almonds, soaked in water for three hours (optional)

1

cup

drained sun-dried tomatoes (or, if not from a jar, soak in water for 10 minutes and drain)

large handful

of fresh flat-leaf parsley

1

cup

black olives, pitted

Scant 1/2

cup

olive oil

1

tablespoon

raw honey

18

ounces

whole grain pasta

sea salt
"Meatballs"
1

cup

water

1

cup

quinoa

1

tablespoon

coconut oil

1/2

onion, minced

2 1/4

cups

minced brown cap mushrooms

Small handful

of flat-leaf parsley, minced

Small handful

of fresh basil, minced

Small handful

of cilantro, minced

1

teaspoon

dried chili flakes

Grated zest and juice of 2 lemons

2

tablespoons

nutritional yeast

6

tablespoons

oat flour (or any other whole grain flour)

2

tablespoons

olive oil
Directions
For the pasta and meatballs
Preheat the oven to 350ºF. Slice the eggplants into ½ inch thick rounds and place on a baking sheet. Coat the eggplant with the coconut oil and a good sprinkling of sea salt. Roast in the preheated oven for 30 to 35 minutes, or until soft and golden.

Leave to cool, then put the roasted eggplant, soaked almonds, sun-dried tomatoes, parsley, olives, olive oil and honey in a food processor and blitz to a paste.

For the "meatballs," put 1 cup water in a saucepan and bring to a boil. Add the quinoa, bring back to a boil, cover, and simmer for about 20 minutes until cooked. Leave to cool. Preheat the oven again to 350ºF if it isn't still on.

Heat the coconut oil in a frying pan over medium heat. Add the onion and mushrooms and cook for 5 to 7 minutes, or until the onion is translucent and soft.

Transfer to a bowl with the cooled quinoa and the rest of the "meatball" ingredients. Mix well, then shape into golf ball–sized "meatballs." Place on a baking sheet and bake in the hot oven for 30 minutes, or until browned, flipping halfway through. Leave to cool.

Cook the pasta according to the package instructions, until al dente. Drain and divide between bowls. Pour over the pesto, mix well, and top with the "meatballs."