Eggplant Rollatini Recipe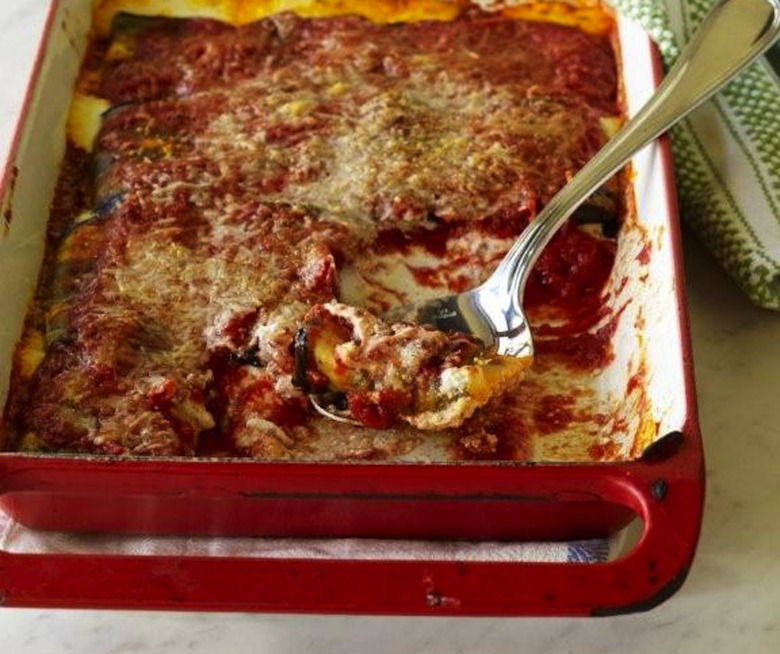 Photo: Antonis Achilleous
Baked eggplant slices rolled around a meatless filling is a kosher favorite. My version ups the traditional ante as it's served with a sauce that includes smoky red peppers, a great eggplant counterpoint, plus creamy mascarpone. The eggplant rollatini dish is luscious but light, and can also be made ahead of time. It's a great family favorite, too.
Eggplant Rollatini Recipe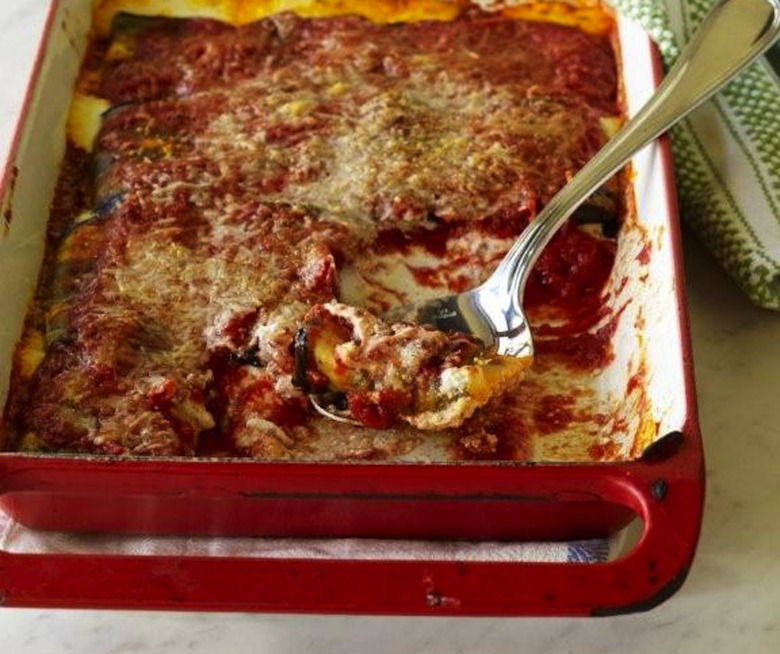 Ingredients
3 medium eggplants
2 tbsp plus 2 tsp kosher salt
1 28 oz can peeled plum tomatoes
2 roasted red peppers
2 large basil sprigs
6 garlic cloves
2 sprigs oregano (or 2 tsp dried oregano)
1/4 cup extra-virgin olive oil
1 15 ounce container ricotta
1/2 cup mascarpone
1/4 tsp nutmeg
1/2 cup parmesan
Directions
Place the eggplant slices on paper towels and sprinkle on both sides with 2 tablespoons of salt. Allow the slices to release their bitter juices, 20 to 30 minutes.
To make the sauce, cut the tomatoes in large chunks, combine with the peppers in a medium bowl and puree with an immersion blender, or in a food processor.
Heat a large skillet over medium-high heat. Add the tomato and pepper puree, basil, garlic, oregano and 1 teaspoon of the salt, bring to a boil, reduce the heat, and simmer until the flavors are blended, 15 to 20 minutes. Set aside. 
Meanwhile, preheat the oven to 350 degrees F. Cover 2 medium cookie sheets with foil and brush with the olive oil.
Wipe the excess salt from the eggplant, roll in the paper towels and squeeze the rolls gently to remove more moisture. Transfer the eggplant to the cookie sheets, and bake until tender and somewhat translucent, 15 to 20 minutes.
Cover the slices with foil (to trap steam that will prevent the eggplant from sticking to the pan) and allow to cool. 
Meanwhile, in a large bowl, combine the ricotta, mascarpone, nutmeg and the remaining teaspoon of salt. Transfer half of the tomato sauce to a 8 x 12-inch baking dish. 
With your hands, and using 2 to 3 tablespoons of the cheese mixture, make roll-shapes. Place one partway down from the wide end on an eggplant slice, roll to enclose it, and transfer to the baking dish seam side down. Repeat with remaining cheese mixture and slices.
Spoon the remaining tomato sauce over the eggplant, sprinkle with the Parmesan, and bake until tender, about 20 minutes. Let rest for 5 to 10 minutes before serving.