Eggplant Parmesan Recipe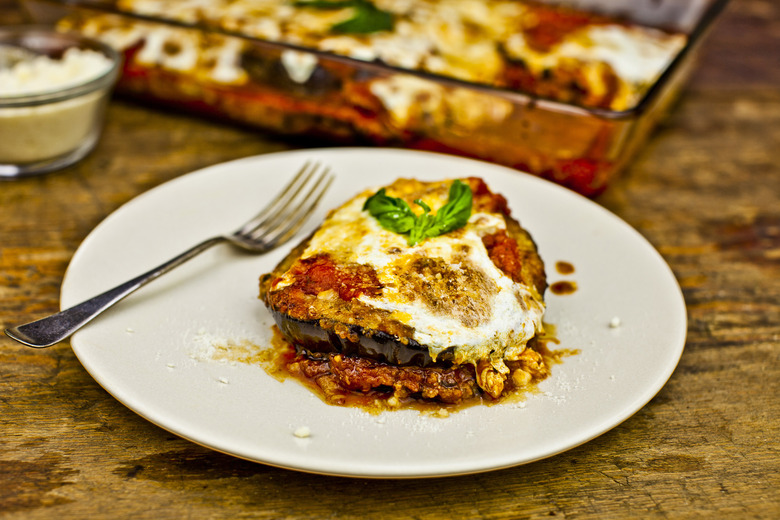 Photo: Mark Shaw
We've heard of far too many people who think they don't like eggplant. That's right, we're going so far as to say that everyone likes eggplant, they just don't know it yet.
Smothering anything in melty cheese is a great first step, which is where this simple eggplant parmesan recipe comes into play. We heartily suggest you make your own basic tomato sauce to go with this eggplant parmesan. If you need to save time and use a jarred tomato sauce, use a good one (we like San Marzano). This recipe is a crowd pleaser that's easy to double for a dinner party.
Eggplant Parmesan Recipe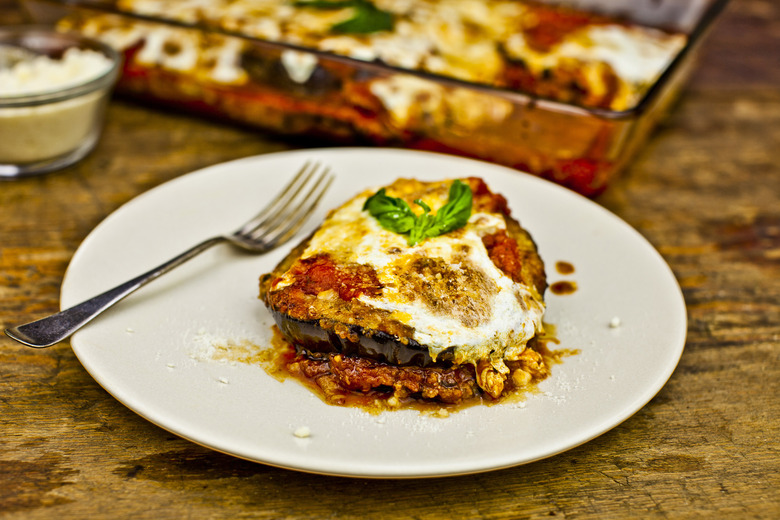 Ingredients
2 eggs
1 cup Italian seasoned breadcrumbs
1 cup grated Parmesan cheese
1/2 teaspoon coarse salt
1/4 teaspoon freshly ground black pepper
1 large eggplant
4 tablespoons olive oil
3 cups tomato sauce
1 pound fresh mozzarella
Directions
Beat eggs in a small dish and set aside.
In a shallow dish, combine breadcrumbs, 1/4 cup of parmesan cheese, salt and pepper.
Dip each eggplant slice in egg, then thoroughly coat with breadcrumb mixture and transfer to a large plate.
Heat the olive oil in a large, heavy skillet over medium heat until shimmering, then fry the eggplant slices in batches for 2-3 minutes on each side or until golden brown.
Smear 1 cup of tomato sauce on the bottom of a baking dish.
Add four fried eggplant slices to the baking dish and top each with a slice of mozzarella.
Cover with a cup of tomato sauce, then top with 1/4 cup of parmesan cheese.
Top with the second batch of fried eggplant slices, layer on the last cup of tomato sauce and 1/2 cup of parmesan cheese and top with the rest of the mozzarella.
Preheat oven to 375 degrees.
Bake for 20 minutes or until cheese is melted and bubbly. Remove from oven and preheat broiler to high.
Broil for 3-5 minutes or until cheese is crisp and browned. Allow to rest for 15 minutes before serving.