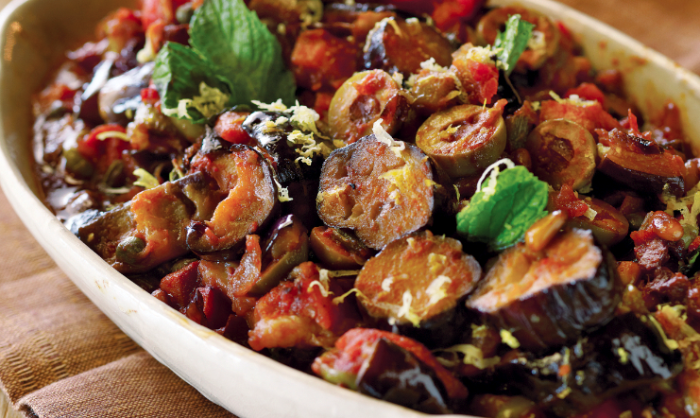 Fabio Vivani of Top Chef and Top Chef All-Stars releases his cookbook this week! We nabbed a couple of recipes from this awesome new addition to our food library, including this super-simple, rustic Sicilian eggplant caponata you can serve with any Italian meal.
Everybody loves sweet-and-sour flavor. Now, we almost always put egg­plant in caponata, but the traditional caponata was made with whatever vegetables were left over from the field, braised in vinegar and sugar to take the unfresh flavor away. The original Sicilian caponata doesn't include carrots, but my mom makes it with carrots. My grandma does it without carrots. And I do what I like. If you have carrots, put some in; if you don't have carrots, don't use any.
This is a good side dish, but it's also good as a topping and as an appetizer. You're going to get a standing ovation when you serve this even on plain bread.
Ingredients
1

cup

celery, diced

1

cup

carrots, diced

1

large yellow onion, diced small

1 1/2

cups

olive oil

5

cloves

garlic, crushed (not minced)

3

large eggplants, half the skin removed in strips with a vegetable peeler, cut into 1-inch chunks

1/2

cup

capers in water, drained

1 1/2

cups

pitted green olives, sliced

1

cup

pine nuts

2

tablespoons

brown sugar

1/2

cup

red wine vinegar

2

cups

tomato sauce, mixed with 2 tablespoons tomato paste

1

bunch

basil, leaves only

Salt and pepper

zest of

1 lemon

mint leaves, for garnish
Directions
In a large Dutch oven, combine the celery, carrots and onion with the olive oil. Cook over medium heat until the vegetables are nicely cara­melized, then add the garlic and cook for another 3 minutes.
Next add the eggplant, tossing and stirring the chunks as they heat up to help them absorb all the oil. Once they've released a bit of water, turn the heat to high and keep stirring. After about 10 minutes, the eggplant will start to get softer and will be reduced in size. Then add the capers, olives, and pine nuts, and cook for another 5 minutes.
Add the brown sugar and the vinegar, and as soon as the vinegar has reduced add the tomato sauce mixed with the tomato paste. Cook for another 10 minutes and add the basil. Season with salt and pepper. Turn the heat down to medium and cook until the tomato sauce is com­pletely reduced and there is no trace of water left.
Remove from heat and let rest for about 30 minutes. Serve with lemon zest and mint on top.
Try out these eggplant recipes on Food Republic: