Make This Vegetarian Eggplant Bolognese Pasta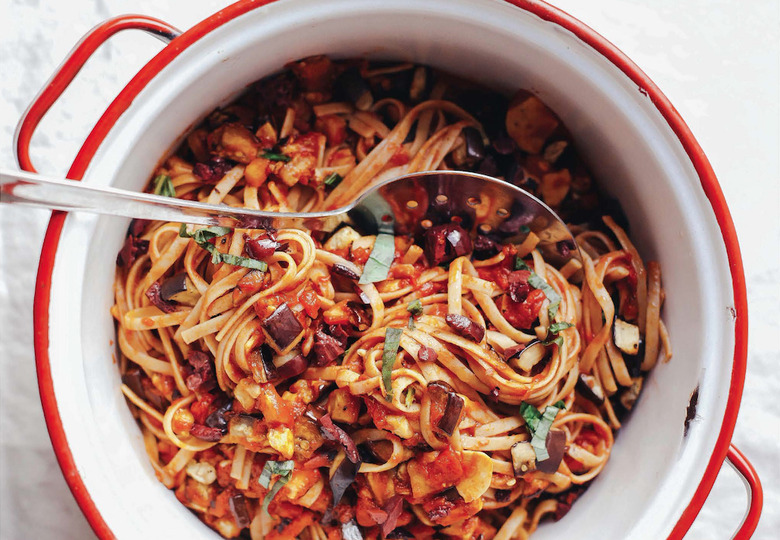 We may receive a commission on purchases made from links.
Award-winning food blogger Laura Wright has a new collection of vegan recipes out that will reinvigorate your entire cooking game. Imagine a vibrant plant-based diet that satisfies and delights, then whip up her healthy, imaginative and flavor-packed fare at home. This entirely vegetarian eggplant bolognese pasta makes for a hearty, produce-packed dinner.
I came up with this recipe when I had too many eggplants in my garden at the end of one really hot summer, just when the nights were starting to get cool enough to enjoy a pasta dish with substance. I love that this one is weeknight-simple, but lovely enough for guests, without question. Sometimes I toss a cup or so of cooked lentils into the sauce at the end for a hit of protein. I salt and rinse the eggplant to get rid of any bitterness, and to greatly improve the texture as well. The addition of some chopped olives really brings out the meaty nature of eggplant. I don't particularly aim for meat-like results when I cook, but this dish goes in that direction in a very organic way.
Make This Vegetarian Eggplant Bolognese Pasta
Award-winning food blogger Laura Wright has a new collection of vegan recipes out, like this entirely vegetarian eggplant bolognese pasta.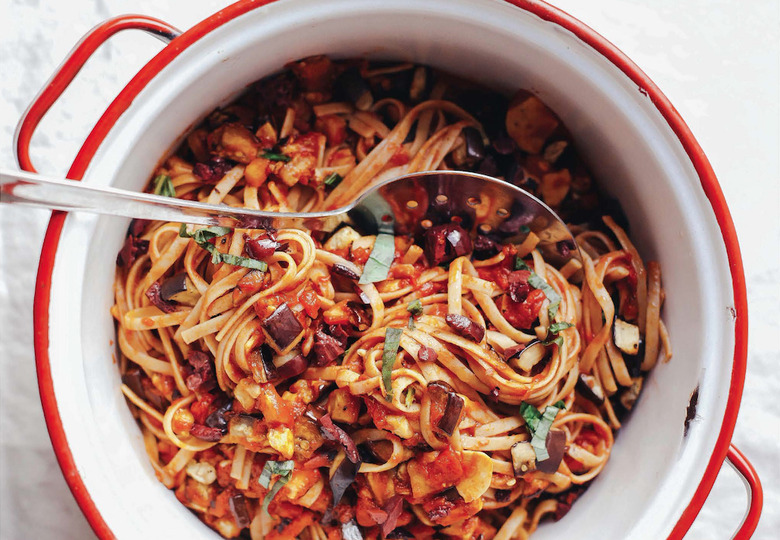 Ingredients
1 large eggplant
sea salt
1/4 cup plus 1 tablespoon virgin olive oil
Salt and pepper
5 cloves garlic
1/2 teaspoon chili flakes
1/4 teaspoon dried oregano
1 28-ounce can crushed tomatoes
1 cup vegetable stock or water
3/4 pound whole-grain or gluten-free long pasta of your choice, such as spaghetti or linguini
6 whole fresh basil leaves
1/2 cup pitted kalamata olives
Directions
Preheat the oven to 400°F. Line a baking sheet with parchment paper and set aside.
In a large bowl, toss the diced eggplant with a generous sprinkle of sea salt. Let the eggplant sit for 10 minutes to release some of its water. Pour the salted eggplant into a colander and rinse with fresh water. Dry the eggplant pieces as thoroughly as you can with a kitchen towel, and then lay them on the prepared baking sheet.
Toss the eggplant with 1 tablespoon of the olive oil and the salt and pepper. Spread the eggplant out into a single layer. Slide the baking sheet into the oven, and roast until the eggplant is tender and has browned slightly, about 20 minutes. Set aside.
In a large, deep skillet (or braiser), heat the remaining ¼ cup of olive oil over medium heat. Add the garlic, stir, and sauté for about 30 seconds or until fragrant. Add the chili flakes and oregano, and stir. Add the tomatoes and vegetable stock to the skillet, and stir to combine. Bring to a boil, uncovered. Lower the heat and simmer the sauce for 30 minutes.
Meanwhile, cook the pasta according to package directions. Drain and set aside.
Drop the basil leaves into the tomato sauce and submerge the leaves. Cover the sauce and let it continue to cook for 10 more minutes.
Remove the basil leaves from the sauce, and season it with salt and pepper. Add the roasted eggplant and chopped olives to the sauce, and stir to distribute. Carefully toss the cooked pasta in the sauce. After the noodles are coated in sauce, sprinkle the chopped basil on top. Serve the pasta hot.