Eggnog Sandwich Cookies Recipe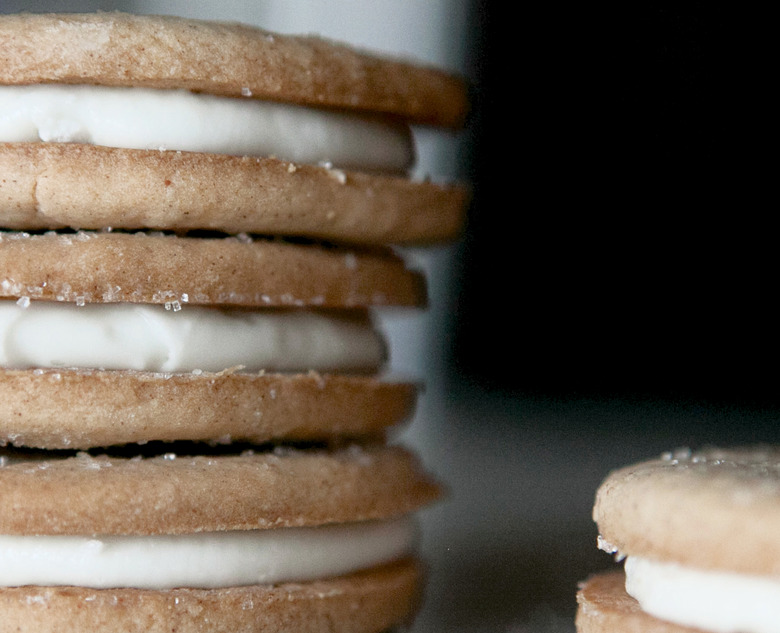 It's the ultimate Christmas cookie. (Photo: Winona Barton-Ballentine.
We may receive a commission on purchases made from links.
If you're never been to the Ovenly bakery in Greenpoint, Brooklyn, put it on your culinary bucket list and prepare for pastry nirvana. The award-winning duo of Erin Patinkin and Agatha Kulaga are unbeatable at the baking game, so we picked up a copy of their brand-new cookbook, very simply titled Ovenly.
This sparkly Christmas cookie has become a holiday standard at Ovenly. The rum cream filling combined with cinnamon and nutmeg in the sugar cookie is reminiscent of everyone's favorite wintertime cocktail.
Eggnog Sandwich Cookies Recipe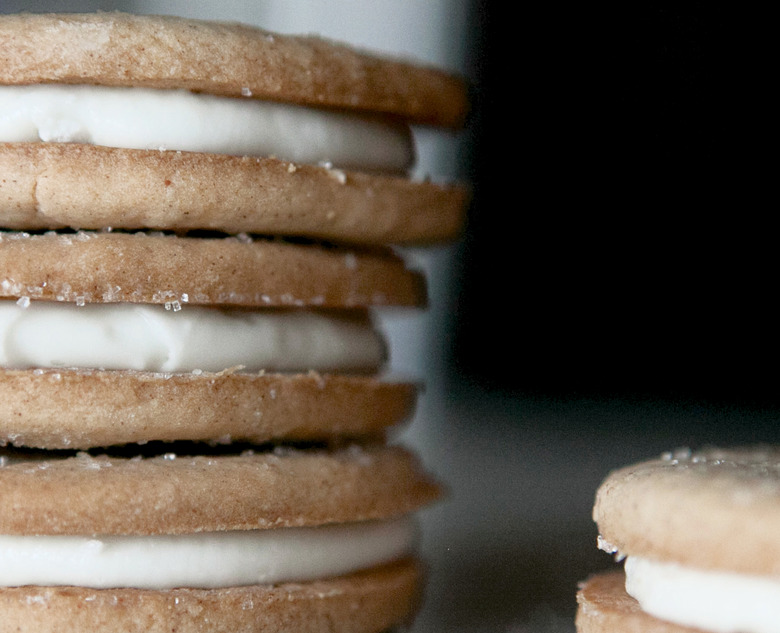 Ingredients
2 cups confectioners' sugar
16 tablespoons unsalted butter
2 tablespoons light corn syrup
2 teaspoons ground cinnamon
1 teaspoon freshly grated nutmeg
1 teaspoon vanilla extract
3/4 teaspoon salt
1/4 teaspoon ground cloves
1 large egg
3 tablespoons rum
2 teaspoons baking powder
3 1/2 cups all purpose flour plus more for dusting
sanding sugar
3 cups confectioners' sugar
1/4 cup rum
1/4 cup heavy cream plus more for thinning
Directions
In the bowl of a stand mixer fitted with a paddle attachment (or using a hand mixer), cream together the confectioners' sugar, butter and corn syrup until very fluffy and light in color, about 3 minutes.
Add the cinnamon, nutmeg, vanilla extract, salt and cloves and beat until combined, about 30 seconds more.
In a small bowl, whisk together the egg and rum, and then stir in the baking powder until it dissolves completely.
With the mixer on low, add the egg mixture and mix until barely incorporated.
Turn the mixer off and add the flour.
With the machine on low, mix until the flour is well incorporated and the dough is smooth, about 1 minute.
Divide the dough in half, and form it into 2 disks, each 6 inches in diameter.
Wrap each in plastic wrap and refrigerate for at least 1 hour, or until the dough is firm.
Line 3 rimmed sheet pans (if you do not have 3, you will have to bake these cookies in batches) with parchment paper.
Preheat the oven to 350°F.
Lightly flour your work surface and rolling pin, and sprinkle the dough with extra flour to prevent it from sticking.
Roll the dough to a thickness of 1/4-inch, lifting it as you roll and flipping it over a few times to prevent it from sticking to the work surface.
With a cookie cutter (we usually use a 1 1/2-inch round cutter or a small glass), cut the dough into the desired shape and transfer the cookies to the prepared sheet pans (these cookies do not expand much, so you can bake 20 per pan).
Reroll and cut any leftover dough.
Place them in the freezer (you can stack the pans in the freezer by placing parchment in between each. If you do not have 3 pans you can stack cookies in single layers, lining parchment in between each layer) for 15 minutes before baking. This will allow the cookies to retain their shape.
Sprinkle each cookie with sanding sugar, and bake the cookies pan by pan for 8 to 10 minutes, or until they are slightly golden on the edges.
Let the cookies cool completely before assembling.
While the cookies cool, prepare the cream filling.
In a large bowl, whisk all the filling ingredients together thoroughly until a thick, but spreadable paste forms.
Thin the filling with cream if it is too dry.
Spoon a dollop of the cream filling on the center of a cookie and top it with another cookie, pressing down lightly to ensure that the filling spreads evenly in between but not beyond the cookie edges.
Repeat this process until all the cookies are filled.
Gingerbread Cheesecake Cookies Recipe
The Only Snickerdoodle Cookie Recipe You Need To Know
Salted Triple Chocolate Brownie Batter Cookies Recipe