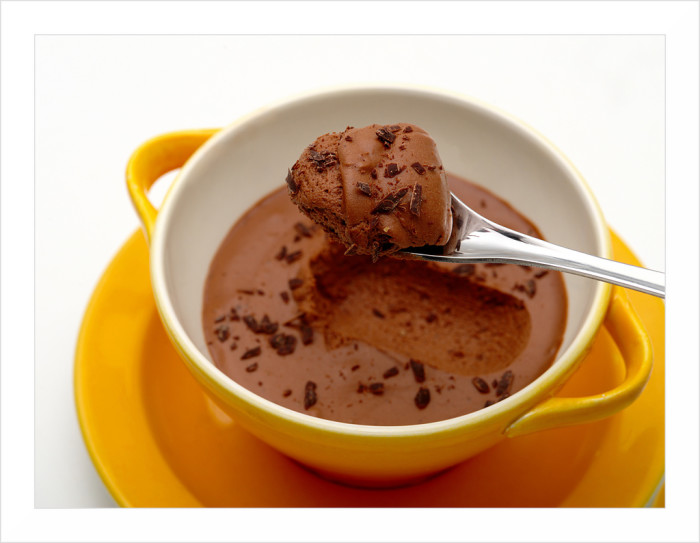 Is there any better dessert than chocolate mousse? It's light and airy, with just a touch of sweetness. So how do you make it? The French use egg whites and yolks, separated and whipped. While it tastes awesome, it's more work, and we figured some cooks may not be so keen on using uncooked eggs, so this version is made with gelatin instead. This is a basic creamy chocolate mousse you can infuse with liquors, coffee or even add a pinch of cinnamon if you like. We're using vanilla but you can add rum in place if you like to spike your sweets.
Ingredients
10

ounces

semi- sweet chocolate, you can substitute bitter- sweet if you prefer

3

tablespoons

unsalted butter

1

tablespoon

vanilla extract

1 1/4

cups

heavy cream, 1 cup chilled and whipped to form stiff peaks, 1/4 reserved

1

teaspoon

unflavored gelatin
Directions
In a metal bowl over a pot of simmering water (a double boiler) melt the chocolate, butter and vanilla. Be sure not to burn so pull it off the heat when there are few small pieces still visible. Continue to stir off the heat until smooth and let cool to room temperature.
Slightly warm the 1/4 cup of cream and add the gelatin. This should not be hot just very slightly warm. Let bloom (melt) for about 10 minutes. Fold into the chocolate mixture.
Then fold the whipped cream into the chocolate mixture until just incorporated. Chill until ready to serve. If you want to serve this in individual glasses, place the mousse into the glasses before chilling.