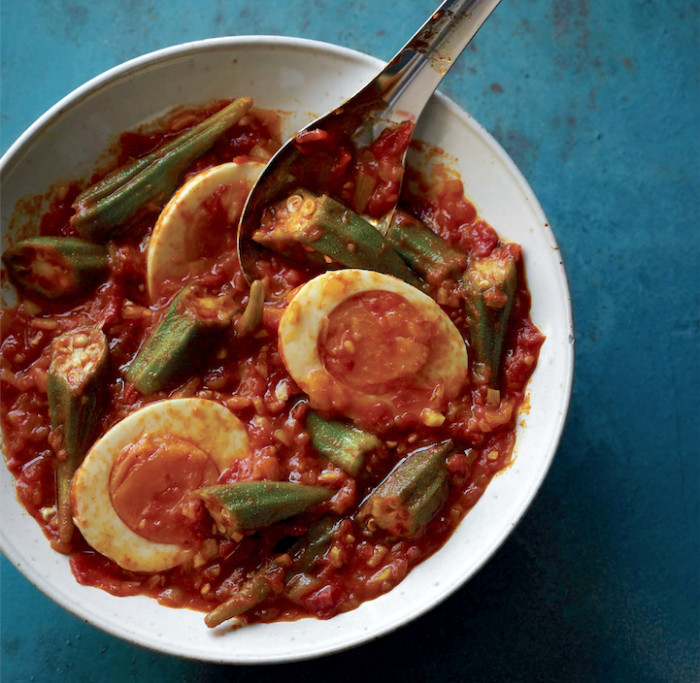 Face it: you're woefully undereducated when it comes to the food of Myanmar — and so were we until we picked up a copy of Burma Superstar. Packed with vibrant flavors both familiar and entirely new, this book based on recipes from the beloved San Francisco restaurant of the same name is a fantastic primer on Burmese cuisine. This egg and okra curry is a comfort dish throughout the region. 
While eggs and okra are the headliner ingredients of this simple curry, don't over­look the virtues of the simple sauce. Made from slow-cooked shallots, garlic, and tomatoes and a generous amount of turmeric, it's so popular that the staff at sister restaurant Burma Love spoons it alone over rice. Shallots (or onions) are used in two places — minced for the sauce and sliced for texture. In Myanmar, cooks fry hard-boiled eggs to help them hold their shape in this classic curry, but not everyone is a fan of the ensuing rubbery texture. Frying isn't actually necessary: adding the eggs at the end preserves their shape just fine.
Ingredients
1/4

cup

canola oil

3/4

cup

finely diced shallots or yellow onion

1/4

cup

minced garlic

1 to 3

Thai chilies, sliced crosswise or 1/2 jalapeño, seeded and minced

1/2

teaspoon

turmeric

1/2

teaspoon

paprika

1/4

teaspoon

cayenne

1

teaspoon

salt

3

cups

diced Roma tomatoes (about 6 tomatoes)

1 1/2

ounces

okra (about 15), tops trimmed, cut into 2-inch pieces

1

cup

sliced shallots or yellow onion

1

tablespoon

fish sauce

4

hard-boiled eggs

1

cup

cilantro sprigs, for garnish
Directions
For the curry
In a 4-quart pot, heat the oil over medium-high heat. Stir in the diced shallots and cook until softened, about 1 minute (this will take a few more minutes if using onion).

Add the garlic and chiles, decrease the heat to low, and cook, stirring frequently, until the garlic has begun to turn golden but has not started to brown, 1 to 2 minutes. (If the garlic starts to stick to the bottom of the pot, turn off the heat for a minute and stir, letting the garlic cook off the heat to avoid scorching it.)

Stir in the turmeric, paprika, cayenne, and salt. Add the tomatoes and cook over medium-low heat, stirring occasionally, until the tomatoes lose their shape and form a sauce, about 10 minutes.

Stir in the okra, sliced shallots, and fish sauce and cook for 2 to 3 minutes more or until the okra is just tender but not mushy. Season with more fish sauce or salt if desired.

Cut the eggs in half. Nestle the eggs, cut-side up, in the pot and bring to a simmer. Gently stir the curry, ensuring that the eggs hold their shape, until the eggs are heated through. Include 1 or 2 egg halves in each serving. Serve with a bowl of cilantro sprigs at the table.